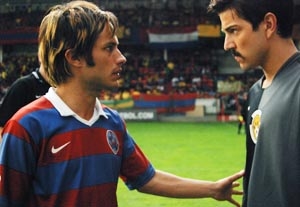 It's been eight years since audiences were first charmed by the onscreen pairing of Gael García Bernal and Diego Luna in Alfonso Cuarón's international hit
Y Tu Mamá También
. The chemistry between the two was so real and so riveting that the sexually charged road movie earned each actor the Marcello Mastroianni Award at the 2001 Venice Film Festival.
The Mexican stars have since acted in a number of films—Bernal took on
The Motorcycle Diaries, Bad Education
, and
The Science of Sleep
, and Luna appeared in
Mister Lonely, Milk
, and
The Terminal
—most of which were somber fare. Each took on the director's mantle—Bernal with
Déficit
and Luna with a documentary on boxer Julio César Chávez—and they even became fathers. But as their new film
Rudo y Cursi
proves, time has done nothing to change their winning, playful, and competitive dynamic.
Produced by the champion trifecta of modern Mexican cinema, Alfonso Cuarón (
Children of Men, Harry Potter and the Prisoner of Azkaban
), Alejandro González Iñárritu (
Babel, 21 Grams, Amores Perros
), and Guillermo del Toro (
Pan's Labyrinth, The Orphanage, Cronos
) and directed by
Y Tu
Mamá's Oscar-nominated screenwriter Carlos Cuarón,
Rudo y Cursi
seems destined for greatness.
And it has already delivered. After premiering in Mexico in December 2008, the comedy has become the third-highest-grossing local film ever made. Bernal and Luna play two brothers who rival each other in the world of professional football (that's "soccer" to Americans). And it's refreshing to see the lifelong friends in a fun film (due out May 8) that doesn't take itself too seriously.
Back Stage
: I find it really interesting that you are both competitive with everything except acting.
Diego Luna
: Well, it's just that it would be really stupid to compete in acting. Each of us is unique and almost the best.
Gael García Bernal
: Something that we know for a fact is that we might be two very lousy actors on our own, but together we're better than 10.
Back Stage
: But both of you claim you're better at football. Do you still play every Saturday on a team called Sinaia?
Bernal
: We're not playing, and actually the team is doing really well without us.
Luna
: Since I had a baby, I basically went three times to play, and in those three times one was worse than the other and so on, pathetic. With no sleep, no running, now we look like old guys trying to be young.
Back Stage
: And you visited the same kind of banana plantation in Cihuatlán where your characters worked?
Luna
: We went a few months before we started shooting, before he went to do a film and I went to shoot another film, and we said, "Okay, let's go there. Let's find where the characters live, and let's leave it there, and then we'll come back and revisit this world." It was good. It was interesting. We talked a lot.
Bernal
: Yeah, it was like reliving
Y Tu Mamá También
in the car, because we were with Carlos.
Back Stage
: Alfonso Cuarón has said that working with the both of you "saves 25 years of rehearsals because you've known each other for 25 years and you communicate almost telepathically." Would you agree?
Bernal
: We both come from families that worked in the theatre, and our way of being together, or wanting to be with our parents, was doing improvisations. For example, we used to ask our parents, "Give us a situation," and we would improvise it or we would put a play together and show it to them. So imagine how exhausting it was for our parents to see us doing that. But actually, it must be one of the greatest things. Most kids want to be like their parents. There's something about it that drives you, and this was our way of communicating that we wanted to be like them. So we've been working together for a long, long time, doing those little things.
Back Stage
: Were you surprised when
Rudo y Cursi
became the third-highest-grossing film in Mexico?
Bernal
: Yeah, bronze medal.
Luna
: The first film, the one that got the gold medal, it's a cartoon film [
Una Película de Huevos
], so we were bitten first by cartoons—
Bernal
: No, the first was [
El Crimen del
]
Padre Amaro
.
Luna
: Bueno, okay. Then the second is cartoons; the first one is Gael's film about a priest, and the third is
Rudo y Cursi
, so you can see how [in Mexico it goes] religion, then cartoons, and then football. I was happy.
Surprise
is not the right word, because I saw the film with an audience and I realized how strong the audience was responding to the relationship of the brothers. It was like the perfect screening. It's all about getting them the first weekend, and we worked a lot for that to happen. So I was happy for Carlos, also, and for Alfonso and Guillermo and Alejandro, because they have financial problems. They need the money.
Back Stage
: You have both directed films under Canana, your shared production company. How has directing changed you as actors?
Bernal
: I wish [
Déficit
] was a bit more formal.
Luna
: It does change everything. In
Y Tu Mamá También
, we decided [we wanted] to be part of moviemaking from beginning to end and not just the period of an actor. The actors are just there for a little time, and we kind of enjoyed the idea of being there, since it's an idea that has to develop in a script, and as consequence of that, I guess one day we had a story that we wanted to tell. Now, obviously, when I act I am more aware of what the director is doing and how I can help him. Sometimes as actors, without even knowing, we basically make the life of the director miserable. Or as an actor I like staying longer to watch how the director solves something.
Bernal
: Yes, it has made us a bit more active with our acting, [having] directed. We use more elements, and we administrate ourselves a bit better. It was a great lesson in acting to be directors, really. Cinema is a particular language that you learn. You learn the engineering. You learn the science of it, and it's very complicated. It's very difficult to master. You tend to [realize] how little you know about how films are made when you direct. But in a way, the discovery of that little by little grabs you. It makes you want to tell stories.
Back Stage
: I heard that initially Diego felt more like the character Cursi [corny] and Gael felt more Rudo [tough], but Carlos Cuarón wanted you to make a film that went against your natural personalities, so he swapped the roles.
Luna
: It's not that I thought I was more Cursi. It's just that [Gael] is a year older than I am. The [film is a] story of the older brother and the young brother, and Rudo is the old brother, so I was like, "Really? You want me to be the old brother?" That was going to change the dynamic between the two of us in a way. It was more a reaction to that than to really being Cursi or Rudo, corny or tough, because both characters…
Bernal
: …are tough and corny.