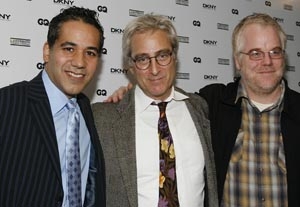 Philip Seymour Hoffman, John Ortiz, and John Gould Rubin will leave their posts as co-artistic directors of LAByrinth Theater Company, an Off-Broadway institution and the resident troupe of the Public Theater known for its collaborative approach in the production of original plays.
The triumvirate will be replaced by three longtime company members: Stephen Adly Guirgis, the playwright who has authored some of the LAB's more memorable work; Mimi O'Donnell, a costumer designer who may soon direct; and Yul Vásquez, an actor and one of the original 13 company members.
Joining the trio is Marieke Gaboury, who takes over as producing director.
In a news release, Hoffman and Ortiz cited growing career and family responsibilities as their reasons for stepping down. In the fall, the two will star in a production of
Othello
, one of the keystones of the Public's coming season. Ortiz will play the title character to Hoffman's Iago.
"When we took over as artistic directors, it was always going to be a temporary thing," Hoffman and Ortiz said in a joint statement. "Now we're at this exciting time for the company, and we have total confidence in this transition. And we're not going anywhere: we'll be very involved in the company as board members and continually available to the new leadership as advisors."
Hoffman and Ortiz were the company's first official co-artistic directors in 1995, and they will assume the titles of co-founding artistic directors.
Guirgis has written some of LAByrinth's signature productions, including
Jesus Hopped the A Train, Our Lady of 121st Street
, and
The Last Days of Judas Iscariot
. In the last production, he was joined by his incoming cohorts—O'Donnell designed the costumes and Vásquez was part of the cast.