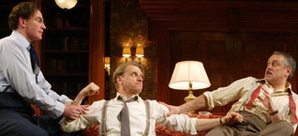 Both nostalgia and plain old fun contribute to the ubiquitous presence of biographical dramas and comedies -- with their larger-than-life personalities engaged in desperately (or jovially) over-the-top antics. And this season is no exception. Biographical plays are also safe: The characters have high-profile names that almost guarantee an audience.
Currently running are "Moonlight and Magnolias," a madcap look at David O. Selznick, Ben Hecht, and Victor Fleming holed up in an office for a week hammering out the script for "Gone With the Wind," and "Orson's Shadow," which depicts the volatile encounter between Orson Welles and Laurence Olivier as the two collaborate on a 1960 production of Ionesco's "Rhinoceros." And upcoming is "China Doll," a glimpse into the misunderstood life and times of the first female Asian-American star, Anna May Wong.
But questions remain: Are the creative teams bringing any new spin to their well-worn subjects and, outside of diehard fans and history buffs, are the protagonists of these plays of any real interest to anybody today? In addition to discussing the particular challenges that writers and directors face in evoking the lives of such public icons, the theatre artists interviewed by Back Stage commented on how these figures -- who function as fictional characters though their stories are based on solid research -- still strike a chord with contemporary audiences.
Ron Hutchinson, the author of "Moonlight and Magnolias," now playing at Manhattan Theatre Club, notes that "Gone With the Wind" continues to be "an iconic movie for a whole new generation of moviegoers, who find a simpler world in that film. But it's much more than nostalgia," he stresses, suggesting that the play talks to audience interests on a totally different level.
"We are obsessed today with how things are made, especially with how films are made," he says. "Maybe that interest has something to do with the number of people walking around with video cameras. Audiences are interested in whose vision makes the film: Is it the writer, the director, or the producer? I hope this play offers a new appreciation of the producer, who lives with the movie longer than anyone else and is ultimately responsible for what gets up on the screen yet gets the short end of the stick and is often caricatured." Hutchinson, a Hollywood writer for many years, adds, "We're all fascinated by process. We're at the keyhole looking into rooms that were at one time sealed."
Taking a voyeuristic peek into the lives of the rich and famous also plays a part in the drawing power of a piece like "Orson's Shadow" (now running at the Barrow Street Theatre), says its director, David Cromer. "We're always comparing ourselves -- rating and judging our lives -- in relationship to the accomplishments and failures of others, especially those whose lives and struggles are played out in public. These characters' struggles are immediately relatable to an audience."
Austin Pendleton, who wrote "Orson's Shadow," agrees, adding, "Laurence Olivier was a man constantly redefining himself, determined to move on and survive, while Orson Welles had a pull towards self-destruction. Those opposing impulses are very human and universal. But the themes become amplified when the characters are renowned.
"But I don't believe audiences even have to know who these characters are, except that they're theatrical figures who have been allotted size and that they lived in an era when people of talent were viewed almost as otherworldly," he continues. "Now talented people are viewed reductively. Everyone is endlessly analyzed and the mystery is gone. Reality TV is the opposite of what Olivier and Welles are about. I think this play speaks to audiences who are experiencing a fierce desire -- much fiercer than nostalgia -- to find that world again."
Pan Asian Repertory Theatre's artistic director, Tisa Chang, who is helming "China Doll" (scheduled to open at the West End Theatre on April 2), also sees Anna May Wong as the embodiment of a more elegant world that is long gone and much missed. For Chang, Wong continues to be fascinating, although she is perceived differently by Caucasians and Asian Americans.
"We wanted to add a human side to the myth," Chang says. "Anna May was a pathfinder and role model, not simply an actress reinforcing such Asian stereotypes as the submissive ornamental exotic on the one hand or the dragon lady on the other. Asian Americans have viewed her dubiously when in fact she was an extraordinary actress."
But Caucasians don't grasp the full picture either, Chang stresses: "They will remember her glamour, her star power, but not the difficulties she went through and how she was slotted into a niche."
Challenges and Pitfalls
The challenges faced by these artists vary. For Chang, whose theatre's mission is, in part, to forge positive images of Asian Americans, there were added concerns. For example: "At the end of her life, Anna May Wong was alone, cloistered, and drank heavily -- many different kinds of alcohol," Chang explains. "We didn't want it to be so grim. So we had her drink champagne to maintain the glamour and dignity that she really did have."
Truth is an elusive concept and perhaps nowhere more pointedly than in the life of a star like Anna May Wong, "who was so many different things to different people," Chang points out. "One of my biggest challenges -- besides the technical challenge of adjusting to the quick and time-shifting cinematiclike scene changes -- was giving Anna May a cohesive imprint. Anna May was a complicated woman who was distant even in her personal life and took on the persona of some of the characters she played on screen."
The author of "China Doll," Elizabeth Wong (no relationship to Anna May), underscores the idea that "the play is a biography with a twist. I'm not literally telling a life story. I'm describing relationships and conversations that I can't possibly know she had. I deliberately put her in movies that she did not appear in. I'm reclaiming and reinventing cinematic history in order to explore what it means to be an artist, what it means to be an Asian-American woman in the arts. But I also want audiences to place Anna May in her world and not to view her through modern eyes."
Rosanne Ma, who plays Wong, concurs: "Every time you portray a real person, you want to maintain respect and therefore cannot make any grand assumptions about that person. One of my goals was to suggest her sense of humor and her quirkiness, which we don't see in her films. I did a lot of research and found that she had a real sense of irony. I want audiences to recognize her integrity, intelligence, and her passion for acting that was almost violent."
Without doing an imitation of her, Ma attempts to hint at "Wong's voice and British dialect."
Similarly, the actors in "Orson's Shadow" have been directed to evoke -- but without leaning on it too heavily -- the physical and vocal characteristics of their onstage alter egos.
"We cast actors who were not afraid of playing famous people and we spent time attempting to capture the characters' voice and look," recalls Cromer. "We gave Jeff Still [who plays Orson], for example, some padding. In the end, the padding helps suggest Orson but, more important, a man who is dragging a lot of weight around and struggling because of it. This play is about people who are struggling, putting up their own barriers, and screwing themselves in the process."
Still, when your subjects are real people, there are added problems, Pendleton acknowledges. The writer doesn't want to violate the truth, but he has to take liberties for dramatic purposes, he says, noting that some events in the play are taken out of context. He admits, for example, that he used Kenneth Tynan -- the critic who was responsible for bringing Welles and Olivier together for "Rhinoceros" -- as a catalyst and a structural and thematic lynchpin.
"Tynan also serves as a stand-in for the audience, the man who adores the two great actors," Pendleton adds. "His presence gives the play a sense of immediacy. He's also not unlike the fool in 'King Lear.' "
But Pendleton hopes that at its close, the play is finally about two men "who are weirdly united in their realization that life is a process of dissolving. Art may transcend that dissolution, but art doesn't take the artist past it. Art cannot save the artist from dissolution."
More Serious Themes
"Moonlight and Magnolias" also embodies some serious themes -- specifically, the peculiar role of Jews in Hollywood's early years. "They were a handful of Jewish men, true outsiders, who created the movies, and American culture through those movies," Hutchinson says. "Yet there was tremendous anti-Semitism in Hollywood -- the belief that Jews were not real Americans -- and Ben Hecht was uncomfortably aware of it and talks about it in the play, while Selznick truly believed that he was assimilated."
To capture the movie mogul's sense of assimilation, Santo Loquasto designed a lavish set deliberately evoking an "Englishman's club," says Hutchinson, who acknowledges that he doesn't know whether Selznick really had an office that looked like that. Regardless, it concretizes the spirit of the man.
Despite its serious undercurrent, "Moonlight and Magnolias" is very much a valentine to the buccaneering spirit of that era, embodied by all the characters on stage, including director Victor Fleming (played by David Rasche), "an aviator, a big-game hunter, and a man for whom directing a film was a contact sport," remarks Hutchinson, adding that Fleming also had a reputation for sartorial splendor.
"The material cried out to be handled in a farcical way," he says, citing another layer to the challenge. "It's the subject -- the three men locked in a room to write the screenplay of 'Gone With the Wind' when the writer has never read the novel. But the madcap style is also right for the era, the comic movies of the era, echoing the comic plays on Broadway -- actors speaking quickly, stepping on each other's lines. The rapid-fire style suggested a kind of modernity."
Director Lynne Meadow, the artistic director of Manhattan Theatre Club, adds that "melding all the elements together was the big challenge. I also wanted all the characters to be human beings, grounded in truth. They're tightly wound, loveable, and endearing. They're larger than life, but they have to be familiar, known to an audience.
"This is a play about serious fun, what it takes to create something -- the work that goes into creation, without knowing if it will be successful at all. There was so much going against Selznick. And that fascinates me: the reality of what's happening on stage versus the cosmic joke of how it all turns out, 'Gone With the Wind' becoming one of the greatest film successes ever. And the audience is in on that.
"I want the audience to leave the theatre admiring how much it takes to make something happen," Meadow continues. "And in the course of that to understand what it must have been like to be a Jew in 1939 Hollywood. They were marginalized outsiders in the mainstream creating a cultural icon."
It is indeed the enigma and paradox of movies in general and "Gone With the Wind" in particular that Hutchinson hopes audiences see in a new light: "One of the greatest movies of all time, whose heroine is a tramp and [with] a background that glorifies slaveholding. But what I really want is the audience to leave the theatre feeling it's been a bloody good night in the theatre."
Certainly, none of the artists would dispute that. But a biographical drama adds another element to the mix. Perhaps playwright Wong sums it up best when she declars that if a play like this is done well, theatregoers will walk away "celebrating their own humanity."