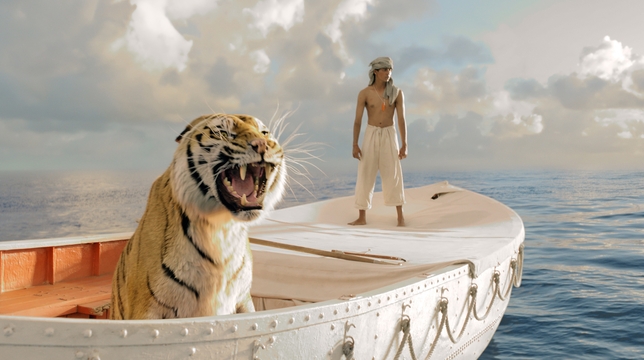 After nearly a decade in development, Yann Martel's best-selling novel "Life of Pi" finally comes to theaters Nov. 21, and director Ang Lee's 3-D film adaptation is receiving praise for its lush cinematography, special effects, and CG creations. To find a lead actor who would stand out amid the visual excitement, casting director Avy Kaufman spent three months combing through 3,000 international video submissions and then traveled to India, where she met newcomer Suraj Sharma. The first-time actor stars as Pi Patel, an Indian boy who loses his family when its ship sinks in a storm on the way to Canada. As the sole survivor, Sharma is alone onscreen for most of the film, stranded in a lifeboat with a zebra, a hyena, an orangutan, and a large Bengal tiger named Richard Parker.
Sharma was only accompanying his brother, an acting student, to record a video audition in Delhi when Kaufman's assistant there prompted him to read for Pi as well. The then 17-year-old stood out immediately to Kaufman when she saw his recording, and he was among about a dozen young actors between the ages of 12 and 18 who were called in for an in-person audition. "I couldn't wait for him to actually come in, in person," she says. "And he came in, and he got the job. He had never acted before, and he carries the entire movie."
Kaufman has collaborated with Lee since the Oscar- and Golden Globe–winning director's "The Ice Storm" in 1997 and more recently on "Brokeback Mountain" and "Taking Woodstock." For "Life of Pi," she searched in England and the States, but most of the international cast came from India, where the majority of the film
was shot.
Kaufman says that casting Pi's family was almost as arduous a process as the title role, because she had to make sure the actors shared a resemblance. Kaufman was familiar with Indian actor Tabu's work and cast her as Pi's mother, then auditioned multiple actors before settling on Adil Hussain as his father. Ayan Khan plays Pi's brother. Ayush Tandon and Gautam Belur play Pi at younger ages in flashbacks and Irrfan Khan is Pi as an older man, recounting his tale to a writer played by rising British star Rafe Spall.
"You had to feel like it was a family," Kaufman says. "And without thinking twice, you had to know that was Pi at 8, that was Pi at 12, and that was Pi at 16. That's always a complex part of
the puzzle."
Casting Director: Avy Kaufman
Director: Ang Lee
Writer: David Magee, based on the book by Yann Martel
Starring: Suraj Sharma, Tabu, Rafe Spall, Irrfan Khan
The Pitch: After the ocean liner transporting his family's zoo sinks, Pi (Sharma) finds himself struggling for survival on a boat with only a Bengal tiger to keep him company.