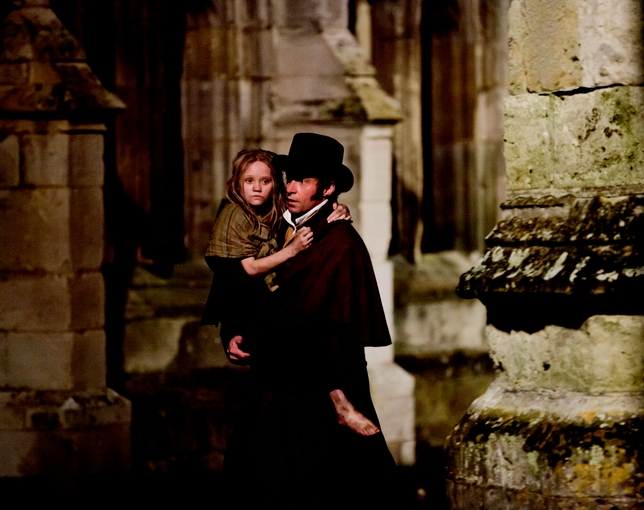 Finding the right faces to embody the iconic parts that make up the world of musical phenomenon "Les Misérables" proved to be quite a feat for casting director Nina Gold. "The big challenge was figuring out how to fulfill the musical needs to the highest possible standard and also cast actors who could play the emotional complexity and depth and presence of the characters," she says.
Because the musical requirements were so rigorous, even major stars had to audition. Hugh Jackman, who portrays haunted ex-prisoner Jean Valjean, performed the character's songs in a New York rehearsal space for Gold and director Tom Hooper. "It was hearing him that really opened my mind to how amazing this could be if we could cast it with people like Hugh, who could not only sing in such a beautiful and powerful way but also made complete sense of expressing the heart and soul and story of the character through song," says Gold. Similarly, Russell Crowe won the role of Valjean's tormentor, Inspector Javert, by proving he "knew how to channel his power and depth as an actor through the medium of song in an astonishing way."
Anne Hathaway, who was cast as tragic factory worker Fantine, moved Hooper and Gold to tears during her audition. "We met quite a few amazing actresses, but when she came and sang, it became clear that she was born to play Fantine," says Gold. "Tom and I couldn't stop crying."
Gold notes that she and the filmmakers looked at "an enormous number of actresses, both well-known and completely new," for the key parts of Cosette and Éponine, two girls whose paths intersect in a fateful way. Ultimately, the roles went to Amanda Seyfried, who showed off her musical chops in the big-screen version of "Mamma Mia," and Samantha Barks, who played Eponine in the West End and in the 25th-anniversary concert of "Les Misérables." Says Gold, "Obviously, Samantha knew the part incredibly well, but she showed us that she also had the skills to give a beautiful, subtle filmic performance." As for Seyfried, Gold says, "We knew that Amanda was a wonderful screen actress and that she was a good singer, and she worked very hard to show us that her voice was right for the very specific requirements of Cosette."
Overall, says Gold, "our actors all have this graceful ease with the music combined with truthful, detailed, real screen acting. Discovering that was the great joy of casting this film."
Casting Director: Nina Gold
Director: Tom Hooper
Writer: William Nicholson, based on the musical by Alain Boublil, Claude-Michel Schönberg, and Herbert Kretzmer and the
novel by Victor Hugo
Starring: Hugh Jackman, Anne Hathaway, Russell Crowe, Amanda Seyfried, Samantha Barks, Helena Bonham Carter, Isabelle Allen, Eddie Redmayne, Aaron Tveit, Sacha Baron Cohen
The Pitch: Ex-prisoner Jean Valjean (Jackman) seeks redemption in this big screen version of the stage musical based on Victor Hugo's classic tale of 19th-century France.