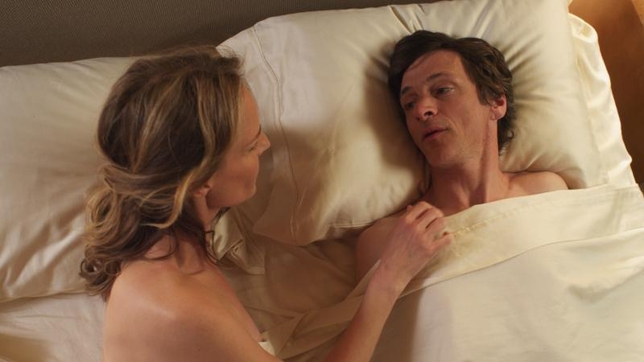 When writer-director Ben Lewin was looking for an actor to play Mark O'Brien in "The Sessions," he knew he was in for a challenge. The role of the poet and journalist, previously profiled in the Oscar-winning short "Breathing Lessons," was unable to move his body from the head down due to a childhood bout with polio. In addition to the physical demands, the role of O'Brien was a challenging one; unlike many films that portray the disabled as saints, O'Brien is a complicated character, often charming but also prone to bouts of anger and self-loathing.
Casting director Ronnie Yeskel first brought up the name John Hawkes, then fresh off his Oscar nomination for "Winter's Bone." Recalls Lewin, "She told me, 'This is your man.' So I watched 'Winter's Bone' and thought, 'What? This creepy old guy?' " But as Lewin watched more of Hawkes' work, he realized he had seen him before and not recognized him, particularly in such projects as the HBO series "Deadwood" and Miranda July's indie "Me and You and Everyone We Know." Lewin met with Hawkes at a deli in Los Angeles, a meeting that stretched on for hours. Says Lewin, "From that moment on, I couldn't see anyone else doing it."
With Hawkes signed on, Lewin found it easier to line up a cast. "John gave the movie some prestige, and we were able to reach out to actors we didn't think were possible," Lewin says. They made an offer to Oscar winner Helen Hunt, who came on board as sex therapist–love interest Cheryl Cohen Greene. Some actors even came to them; William H. Macy's agent recommended his client to play the priest that O'Brien consults for permission to see a sex surrogate.
For the pivotal role of Amanda, one of O'Brien's caretakers, Yeskel called in Annika Marks, whom she had seen in small L.A. theater productions. The newcomer was one of the first people cast, and even she admits she thought it was too good to be true. Marks wrote in a column for Backstage, "In the weeks that followed, I kept waiting for the role to be taken from me" as so many amazing actors signed on.
The cast is rounded out by character faces such as Rhea Perlman, Rusty Schwimmer, and Adam Arkin in small but important roles. All considered the low-budget film a passion project. Says Lewin, "It's amazing how many brilliant actors will work on a movie for reasons other than money."
Casting Director: Ronnie Yeskel
Director: Ben Lewin
Writer: Ben Lewin, based in part on an article by Mark O'Brien
Starring: John Hawkes, Helen Hunt, William H. Macy, Moon Bloodgood, Annika Marks
The Pitch: The true story of poet and journalist Mark O'Brien (Hawkes), who spends long periods of time confined to an iron lung due to a childhood battle with polio. With the blessing of a kind priest (Macy), O'Brien sets out to lose his virginity with the aid of a sex surrogate (Hunt).