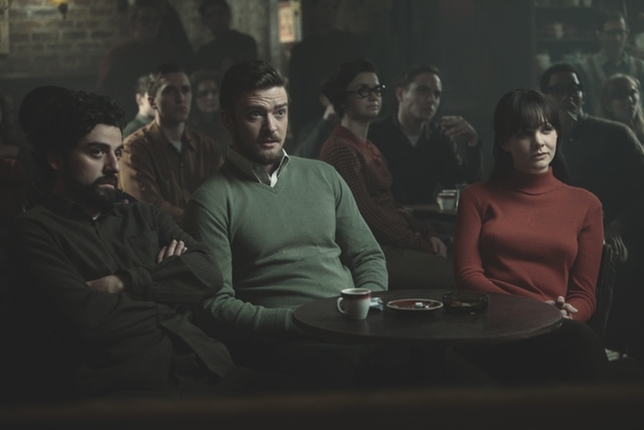 The Coen brothers' latest film follows Llewyn Davis (Oscar Isaac), a folk singer based loosely on singer Dave Van Ronk and his memoirs. "They definitely took it down a Coen road," says casting director Ellen Chenoweth, who's worked with the Coen brothers since "O Brother, Where Art Thou?." Chenoweth says she had known for a while the brothers were planning to do a movie about the 1960s Greenwich Village folk music scene and was excited to work on it. The working relationship was easy, but casting the film was challenging, because unlike with many high-profile films, she started the process from scratch.
"We didn't have anyone set, and the main character is a musician and a singer and obviously has to be a strong actor too because he's virtually in every part of the movie," Chenoweth says. "We didn't want to fake it with the music." So they looked at both actors who could sing and musicians who had never done any acting. The search lasted a long time before, as Chenoweth says, "we ended up with a really strong actor who went to Juilliard and is classically trained and is also a great singer and a great guitarist." She also notes that the long process was a lot of fun because they were able to hear some amazing versions of the songs by some of the great musicians who auditioned.
Although Davis was loosely based on Van Ronk, Chenoweth didn't limit her casting options to someone who matched him physically. "I think Oscar was quite different from what we went in thinking we were looking for…just in a physical way," she says. The relief of finding Isaac was Chenoweth's favorite part of casting the film. "It's sort of like when we found Hailee Steinfeld for 'True Grit,' " she says.
Another challenging role was Johnny Five (Garrett Hedlund), a mysterious young man who drives Davis to Chicago. A sought-after role, it took longer to make a decision due to the number of actors interested. According to Chenoweth, while the role of Jean (Carey Mulligan), a married, sometime lover of Davis', drew a lot of great auditions, it was also challenging to cast due to the singing requirements of the role, which finds Jean performing with her husband, played by Justin Timberlake. Getting Timberlake and Mulligan were among the high points in the casting process for Chenoweth.
The final two of the larger roles were a little easier to cast: Roland Turner (John Goodman), with whom Davis hitches a ride, and Bud Grossman (F. Murray Abraham), who is based on a real manager. "Joel and Ethan knew both of those men, so those were parts that they were able to offer to people they had worked with before," says Chenoweth. "We didn't do auditions for those parts, so those were easier than most."
Casting Director: Ellen Chenoweth
Directors: Joel Coen and Ethan Coen
Writers: Joel Coen and Ethan Coen
Stars: Oscar Isaac, Carey Mulligan, John Goodman, Justin Timberlake, Garrett Hedlund
The Pitch: A young folk singer navigates life and performing in Greenwich Village in the 1960s.