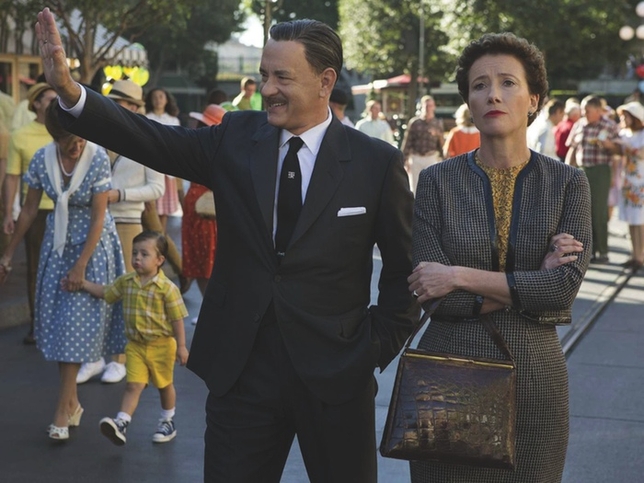 So you're casting a movie, and you want top-tier talent—not just for the leading roles but deep into the lineup. It's a studio film but not one that features Norse gods or guys in robot suits—so your budget isn't exactly top tier. In most cases, this would be a time to jump straight to the B list. But in this case, you're Ronna Kress, and you're casting a film about the making of one of the most beloved movies of all times, "Mary Poppins." Put that B list away.
"Saving Mr. Banks" features Emma Thompson as novelist and Poppins creator P.L. Travers and Tom Hanks as obscure mid-century studio boss Walt Disney. And those two are just the beginning.
"It was a movie made for a price, and that's always a tough sell," Kress said. "But we were fortunate enough to attach Tom and Emma, and it's a great piece of writing, and John Lee Hancock is such a great director, and Alison Owen is such a great producer—it was this combination of really great elements that led us to such a lovely group of actors working on this film."
That group includes—but isn't limited to—Colin Farrell, Ruth Wilson, Paul Giamatti, Jason Schwartzman, Bradley Whitford, Rachel Griffiths, B.J. Novak, and Kathy Baker. The roles they were cast to play were a mix of real-life figures and characters. Giamatti, as Travers' hired driver, and Whitford, as screenwriter Don DaGradi, were on Kress and Hancock's wish list from the beginning. When it came to casting Richard and Robert Sherman, the sibling songwriting team behind the Poppins tunes, Kress "had the great fortune" of meeting Dick Sherman as part of her research. After batting around several ideas for both brothers, the filmmakers settled on Schwartzman and Novak.
A significant part of "Saving Mr. Banks" takes place in flashbacks to Travers' childhood in Australia. Kress considers herself fortunate to have landed Farrell and Wilson as Travers' parents and Rachel Griffiths in a small but key role as Travers' aunt. But casting the rest of the actors for the Australia scenes proved to be a challenge, as the film was shot in the States. Kress put out a call for Australians living in the U.S. and scored several big finds. But her major discovery was Annie Rose Buckley, who played Travers as a girl. "Finding kids is—and I know this is corny to say—like looking for a needle in a haystack," Kress says. Because Travers' younger self is such a key character in the film, Kress teamed with Australian CD Nikki Barrett to launch a down-under search. Kress showed Hancock several young Australians and helped the director narrow the field. Hancock then flew to Australia and settled on Buckley—who had never acted. "How lovely is she?" Kress says. "I just love her."
Of course, in a cast like the one Kress assembled, there's a lot to love.
Casting Director: Ronna Kress
Director: John Lee Hancock
Writers: Kelly Marcel and Sue Smith
Stars: Emma Thompson, Tom Hanks, Colin Farrell, Ruth Wilson, Paul Giamatti, Jason Schwartzman
The Pitch: This is the story of how Walt Disney convinced a reluctant P.L. Travers to turn "Mary Poppins" into a movie musical.