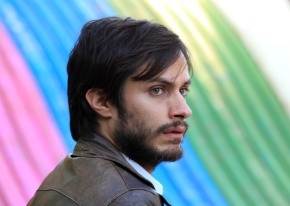 Filmmaker Michael Haneke is known for knotty, provocative films that often twist their way through increasingly disturbing scenarios ("Caché," "Funny Games"). His latest, the Palme d'Or–winning "Amour," is a more intimate work: a quiet, tender story about elderly couple Georges (Jean-Louis Trintignant) and Anne (Emmanuelle Riva), retired music teachers who are still deeply in love. That love is put to the ultimate test when Anne's health deteriorates.
For Haneke, getting that pair right onscreen—and making sure their bond was absolutely believable—was of utmost importance. He says he wrote the film for Trintignant, a veteran French thespian who has worked with such legendary filmmakers as Bernardo Bertolucci and François Truffaut. And he's been captivated by Riva since her stunning, BAFTA-nominated turn in 1959's "Hiroshima Mon Amour." Says Haneke, "I asked [Trintignant] to test with a few other actresses of [Riva's] generation. The evidence was apparent immediately: They are perfect. Right and believable."
Though Trintignant and Riva form the heart of the film, they receive key assistance from an able supporting cast. Isabelle Huppert—who starred in Haneke's "The Piano Teacher" and "Time of the Wolf"—portrays the couple's musician daughter, Eva. "I suggested the role to her," Haneke says. "Obviously, she does not usually accept a secondary role, but she is very intelligent and has a very strong instinct for the quality and content of a performance. I must confess that she may have accepted perhaps a little due to our friendship."
And in an inspired bit of casting, celebrated French pianist Alexandre Tharaud makes his acting debut as a beloved former student of Anne's. "We had a casting call with actors as well as with pianists," Haneke says. "For the role of a great soloist, he was the best."
Overall, Haneke notes, what he was looking for in his actors was simple but specific: "[I wanted them] to build trust, not to talk too much, not rely only on the dialogue, to trust their instincts, and create an atmosphere of concentration at work."
Casting Director: Kris Portier de Bellair
Director: Michael Haneke
Writer: Michael Haneke
Starring: Jean-Louis Trintignant, Emmanuelle Riva, Isabelle Huppert, Alexandre Tharaud
The Pitch: An elderly couple's love is tested when one of them suffers debilitating health issues.