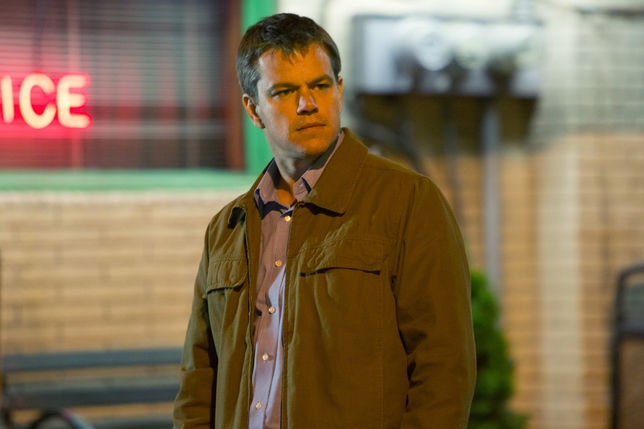 "Promised Land," director Gus Van Sant's tale of culture clash between corporate interests and small-town America, boasts a sprawling cast of distinctively voiced characters. In terms of casting, it's tough to know where to start with a project like this. Luckily, two major pieces of the puzzle were in place before casting director Francine Maisler even began: Matt Damon and John Krasinski, who penned the screenplay, were already set to star. The collision of Damon's mild-mannered natural gas salesman and Krasinski's charismatic environmentalist forms the complicated center of the film.
Maisler notes that the well-respected filmmaking trio of Van Sant, Damon, and Krasinski proved to be "a dream" for her as a casting director, as well as a major draw for interested thespians. "The combined talent of these three individuals served as a magnet to all other actors," she says. Maisler says that the trio always had Frances McDormand in mind for the role of Sue Thomason, the maternal sales partner to Damon's character. "It was fortunate that she was available to do it."
On the other end of the spectrum, Maisler went through "the standard casting process" to find an actor who could believably embody the earthy charms of Alice, a local woman who becomes entwined with Damon's and Krasinski's characters. Rosemarie DeWitt, known for her work in mainstream television ("Mad Men") and independent film ("Your Sister's Sister"), won the part. "We auditioned many wonderful actresses, but after seeing her, it was agreed that she was the perfect fit for the role," says Maisler.
The supporting cast, meanwhile, is packed with familiar faces doing intricate work. "Matt Damon and John Krasinski wrote such interesting characters, actors were drawn to these roles," says Maisler. Some of these interesting characters include Scoot McNairy as a prickly local farmer and Titus Welliver as a soft-spoken man who catches Sue's eye (both actors also recently appeared in Ben Affleck's "Argo"). And Lucas Black—a former child actor who recently starred in "Get Low" and "The Fast and the Furious: Tokyo Drift"—makes a big impression as a scene-stealing resident who pops up at inopportune times. "He has been a standout actor since he was a kid," says Maisler. "They all worked so well together as an ensemble."
As for the pivotal role of a sharp schoolteacher who objects to the machinations of Damon's character's plan, there was really only one choice. "There is only one Hal Holbrook," says Maisler. "So when the guys decided to make him an offer, we were all thrilled he wanted to be a part of the film."
Casting Director: Francine Maisler
Director: Gus Van Sant
Writers: John Krasinski and Matt Damon; story by Dave Eggers
Starring: Matt Damon, John Krasinski, Frances McDormand, Rosemarie DeWitt, Hal Holbrook, Scoot McNairy, Titus Welliver, Lucas Black, Terry Kinney
The Pitch: Big business and small-town community clash when a corporate salesman (Damon) ventures to a rural area that's key to his natural gas company's expansion plans.