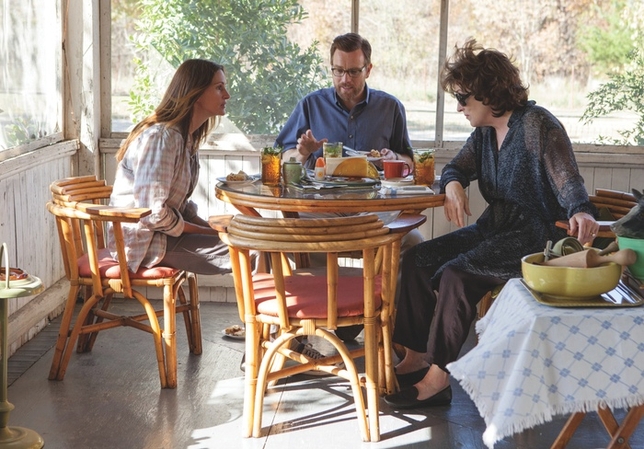 Even the A listers had to audition for "August: Osage County." The film, based on the Pulitzer Prize– and Tony Award–winning play about a Midwestern family reuniting after the death of the patriarch, attracted talent from across the board—and everyone was willing to audition.
"We saw a lot of people audition that hadn't auditioned in years," says casting director Kerry Barden, who worked on the project with his partner, Paul Schnee, of Barden/Schnee Casting. "It was one of those high-profile projects that a lot of movie stars were attracted to. There aren't that many roles. It was a really exciting casting process for it."
Not that you'll see Meryl Streep's audition tape any time soon. When Barden and Schnee came on board, Streep and Julia Roberts had already signed on to do the film. Streep plays Violet Weston, the family's newly widowed matriarch, and Roberts plays Barbara Weston, Violet's oldest daughter, who lives in fear of becoming her uncensored and pill-addicted mother. Deanna Dunagan and Amy Morton, respectively, played the roles on Broadway, and Barden acknowledges that Streep and Roberts are both younger than the characters as written in the play.
"It changed the whole family dynamic," he says. "It gave us a little more freedom as far as being able to see a range of actors for the sisters, and once we started figuring out the ballpark of the age the sisters were, it informed the rest of the family as well. It opened it up."
One of the first people who auditioned for Karen, the youngest of the Weston daughters, was Juliette Lewis. "As soon as she walked in and became this person, [director] John [Wells] realized that that was the bar that anybody had to meet or beat," says Barden.
Dermot Mulroney originally auditioned for Bill Fordham, Barbara's husband, but he wound up cast as Steve, Karen's nice-yet-sketchy fiancé, because his nice-guy type belied his character's potential nastiness.
"He's very sweet," adds Schnee. "You can't telegraph that anything about that part is going to be seedy or untoward."
And though Benedict Cumberbatch seems to be everywhere these days, he was still a relative unknown from the BBC series "Sherlock" when he sent in his taped audition to play the screwup son of Mattie Fae, Violet's sister. "We had seen a lot of people that really fit it as well, but we felt the tape was really wonderful," says Barden.
The ultimate thing the casting directors had to consider when assembling this large ensemble cast, which also includes Abigail Breslin, Ewan McGregor, Julianne Nicholson, Margo Martindale, Sam Shepard, Chris Cooper, and Misty Upham, was whether or not these actors could convincingly play a family. They also had to be ready to play with Roberts and Streep.
"The scenes are intense. You can't back down," says Barden. "So it had to be actors that were up for that challenge."
Casting Directors: Kerry Barden and Paul Schnee
Director: John Wells
Writer: Tracy Letts
Stars: Meryl Streep, Julia Roberts, Ewan McGregor, Sam Shepard, Dermot Mulroney, Benedict Cumberbatch, Margo Martindale, Juliette Lewis, Abigail Breslin, Chris Cooper, Julianne Nicholson
The Pitch: The Weston daughters return home to Oklahoma after their father passes away, and long-held family grievances are aired.