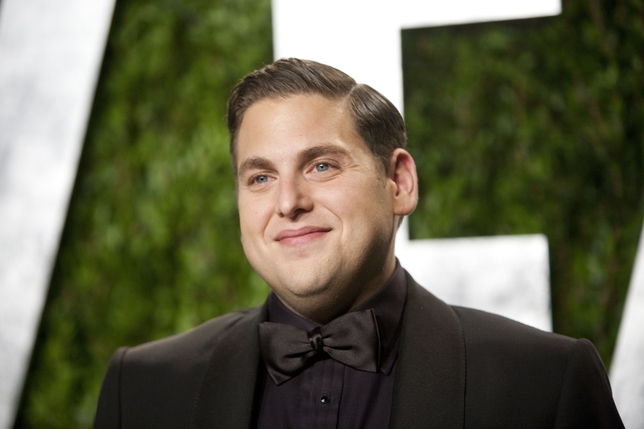 Jonah Hill and his prosthetic pearly whites are serious show stealers in Martin Scorsese and Leonardo DiCaprio's latest collaboration, "The Wolf of Wall Street." Hill, the ultimate right-hand-man character from films like "Superbad," "Get Him to the Greek," and the "Jump Street" movies, does it bigger and better in the gluttonous dark comedy about '90s-era Wall Street crooks living in the lap of drugged-up, sexed-up luxury.

Hill recently sat down with Jon Stewart on "The Daily Show" to talk about how he landed his role in Scorsese's latest success.
Not too long after being nominated for an Academy Award for his work in "Moneyball," Hill got a call from his agent—he was at the "very bottom" of a list of actors being considered to play the role of Donnie Azoff, a pill-popping, coke-snorting stockbroker with a thick Long Island accent, who goes from a nobody married to his cousin, to Jordan Belfort's (Leonardo DiCaprio) vile and wildly successful wingman.
"I know who this guy is in society; I think he's a lot of what's wrong in society and I really wanted to be a part of showing that and bringing that to life," said Hill on The Daily Show about playing Donnie.
After a month of waiting for a reply, Hill was called into a meeting with Scorsese and casting director Ellen Lewis, and insisted on auditioning for the role. That's how you get a role in one of 2013's best films: you insist.
"Let me show him what I can do instead of just begging him on my hands and knees," he said about auditioning for his long-time idol. It had been six years since his last audition and he had to give himself a pep talk in the bathroom before doing it.
Two months later Leo's on the phone telling him he got the part. Like Donnie on his upswing, Hill seized an opportunity and came out on top. Unlike Donnie, we don't see Hill going anywhere any time soon.
Watch his full "Daily Show" interview about sweating bullets for Scorsese and more here!