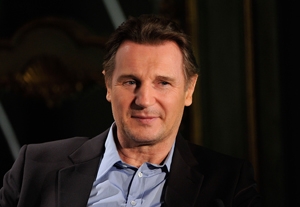 In the past nine years Liam Neeson has incited riots ("Gangs of New York"), crusaded ("Kingdom of Heaven"), tortured sex traffickers ("Taken"), and slain a wolf pack ("The Grey"). He's also become eligible to join AARP. Earlier this week, "
Variety
" announced the 59-year-old actor will likely star in a new film, "Non-Stop." He will be an air marshal. There will be aliens. It will make millions.
How did Oskar Schindler become Rambo?
Neeson got his start on the Belfast stage in 1976 with the Lyrics Players' Theater. He switched repertory companies and eventually impressed filmmaker John Boorman during "Of Mice and Men." Boorman cast him in "Excalibur," starting a trend of entrenched, period pieces thanks to his knack for accents and body of a farmhand paid in mead and meat. He went on to star in "Rob Roy," "Les Míserables," "Michael Collins," and, most famously, "Schindler's List."
Jean Valjean, Oskar Schindler, and the eponymous revolutionaries occasionally throw a punch, but they're not action heroes. They're thinkers. There's a reason 23 of Neeson's movies have been adapted from some form of literature: he's good at internal states. It took 1999's "The Phantom Menace" to show Neeson could fight at a blockbuster level, and even then his character, Jedi Qui-Gon Jin, was comfortable with calm. Only four years ago did Neeson get offered a role as an unquestionable action hero, "Taken's" Bryan Mills.
Critics were divided on his performance.
Anthony Lane in "
The New Yorker
": "You do wonder how this commanding actor—who carries so much more conviction than the plot—felt about delivering the line 'I'll tear down the Eiffel Tower if I have to.' The movie opened in France almost a year ago; was it wise to delay its release here until the dawn of the new Presidency, when it so clearly belongs to the last one?"
David Edelstein in "
New York
": "It's the big, dolorous Neeson who makes the movie a keeper. He does not gloat, he does not preen… He is stripped down to pure, righteous, patriarchal American genius."
And Neeson himself took a tongue-in-cheek view. "It's hilarious," he told
ABC News
. "I'm 58 and when you fall to the ground you try to get up and you're a bit stiff."
But the box office was resolute. "Taken" made well over $200 million and led to similar roles in "The A-Team's," "The Unknown," and "The Grey." His initial appeal, at least for some viewers, certainly had some irony: That old guy can really fight! But his larger appeal goes back to the role that first got him recognized, Steinbeck's Lennie Small in "Of Mice and Men." Like Lennie, Neeson's recent characters are big guys with a big hearts forced into unenviable positions. But unlike Lennie who uses his size with no forethought, Neeeson's characters are endowed with a tremendous mental capacity that allows them to concentrate entirely on rendering justice, whether it's against sex traffickers, mercenaries or arctic wolves. Next up, alien hijackers. It should be good.