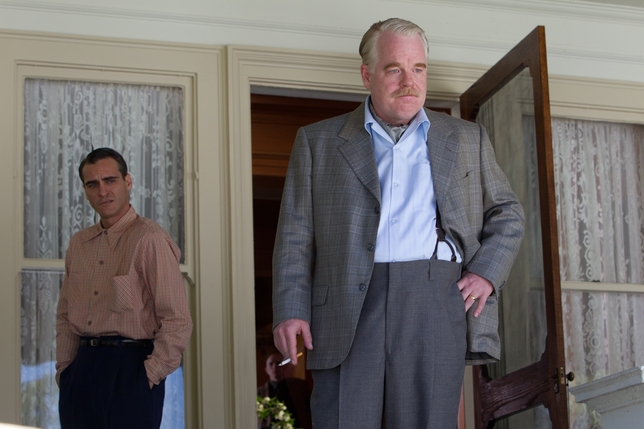 What defines a demagogue but his disciples? In "The Master," Lancaster Dodd (Philip Seymour Hoffman) is the irrepressible founder of the Cause, but his pull is finally measured by the followers—most unrequitedly the mercurial misfit Freddie Quell (Joaquin Phoenix)—who swell his ranks. "What makes the Master the Master is the way everyone treats the Master. You need that just as much as you need Phil's brilliant performance," says Cassandra Kulukundis, who has cast such Paul Thomas Anderson efforts as "There Will Be Blood" and "Magnolia," and whose search on his latest was as wide-open as its narrative. "Paul goes on an instinct a lot," Kulukundis says, "and I run around and I torture everyone to make sure they can do a million things—and Paul has a coffee with them and he's like, 'Yeah, that's the guy!' Together we agree on something."
For Freddie, the Cause's consummate outsider-cum-insider, she says, "It took us a couple years to really decide who was our right Freddie, because he was so dynamic." Anderson had originally met Phoenix when casting 1997's "Boogie Nights." "We've watched Joaquin's work over the years, and this just felt really, really right for him. And then they started talking, and it became very clear."
Dodd and Freddie are the tension lines that electrify the film, but the supporting roles were "the glue that held everything together—the family, the son, the daughter, the mom, and all the followers," Kulukundis says. "So we really want to know that not only do they have the right look but they add to the scene as opposed to draw [focus]." Among Dodd's "reddish," pale-skinned family, for example, Dodd's son, Val, is the scion who spikes the patriarchal punch with cynicism; he needed to "look exactly like the father and not feel anything tied to the father. So Jesse [Plemons] was just perfect. He's so solid, and they look so much alike." Redheaded Madisen Beaty had been brought in to potentially play Elizabeth, Dodd's daughter, but proved too young. "What's wonderful about Madisen is that she harks from another era," Kulukundis says. "I can't even picture her wearing some, like, Ramones T-shirt and jeans. And she was wise beyond her years." Those qualities led Kulukundis to cast Beaty as Doris, Freddie's remembrance of lost love.
Seeming, too, to materialize from another milieu was Rami Malek as Dodd's son-in-law, Clark. "Rami is such an interesting-looking person with his background," Kulukundis says. "And he reminded me of like a Tony Curtis in the middle of this group. He wants Master to be his father; he wants to be part of the family—more so than probably the family wants to be. And same with Amy [Adams]. Amy is the wife—she's not born of the Master, and yet she is 100 percent committed. So those are actually probably more loyal followers to Master."
Concise but indispensable roles were "There Will Be Blood" alum Kevin J. O'Connor as unctuous publisher Bill William, Laura Dern as benefactor Helen Sullivan, and indelibly, Christopher Evan Welch as gimlet-eyed skeptic John More in a "processing" scene that fans out in a set of high-toned Park Avenue rooms. Kulukundis regards the passage as one of ensemble cinema's high-water marks. "That scene to me is just the culmination of everyone: Jesse, Amy, Ambyr [Childers], Rami—everyone's in there—and Joaquin is hilarious. Phil does everything from charming to scary. And Chris is just the right size of intimidating—intelligent, intellectual, and that kind of guy that gets under your skin very quickly."
Casting Director: Cassandra Kulukundis
Director: Paul Thomas Anderson
Writer: Paul Thomas Anderson
Starring: Joaquin Phoenix, Philip Seymour Hoffman, Amy Adams, Laura Dern, Ambyr Childers, Rami Malek, Jesse Plemons, Kevin J.
O'Connor, Christopher Evan Welch
The Pitch: Home from WWII, naval vet Freddie Quell (Phoenix) washes up against puckish philosophical-movement founder Lancaster Dodd (Hoffman).