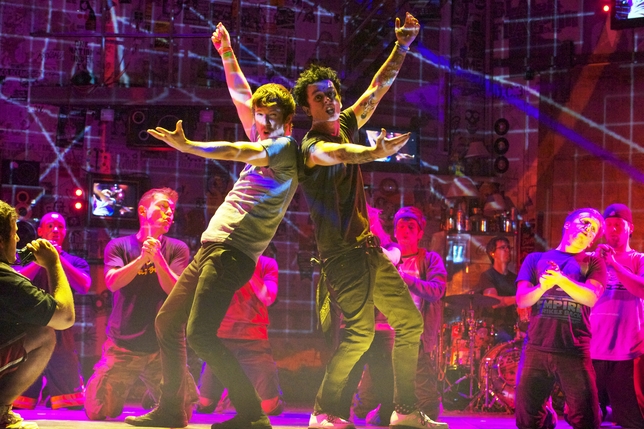 Doug Hamilton thought he would be making a documentary about the clashing worlds of musical theater and punk, but he ended up with a movie about how a rock star found a community through theater. "Broadway Idiot," in theaters and on-demand on October 11, follows the journey of the musical "American Idiot" from rehearsals to opening night on Broadway, with stops at Berkeley Repertory Theatre and the Grammys. The documentary culminates with Green Day frontman Billie Joe Armstrong performing the role of St. Jimmy on Broadway.
Hamilton had known Michael Mayer, director of "American Idiot," for years and took still photography of "Spring Awakening," which Mayer also directed. But by the time "Spring Awakening" became the phenomenon that it became, it was too late to start a film. With "American Idiot," Mayer wanted to document the process from the beginning, even if it might never become a publicly released film. At least he would have a record. "If this became what we all thought and hoped it could be, it would be great to have stuff early on because in a documentary you need process," says Hamilton. "You need to see people accomplish what they intend to accomplish. Or not—whatever way it goes. You need to be along for the ride. And because of the generosity of these guys to let us into the room, which is normally not a place that cameras are allowed, we were able to do that."
Hamilton was surprised early on that instead of a creative clash between the Broadway and punk communities, everyone worked extremely well together. He started to follow the story of Armstrong, who was becoming more and more intrigued and involved with the musical. He found that Armstrong and Mayer had a bond, which he believes stems from their mutual love of musical theater. Hamilton said he had a fantasy that Mayer and Armstrong would sing Judy Garland songs at piano bar Marie's Crisis. That didn't happen, but Armstrong did give him old family footage of him as a boy singing showtunes.
"Once we got to the editing process, there were a lot of films that could have made," says Hamilton. "It could have been a Broadway process film…but I just was drawn to Billie's story, which I think is a more universal story of someone who gets pulled into the Broadway world."
Though the arc of the story is Armstrong's journey, the documentary does show a lot of process, including how an out-of-town tryout can be helpful in developing a show. "What we found in Berkeley was that we had a lot to do still to improve the story. As well as the staging and choreography and the arrangements, casting is a gigantic part of it," Mayer says in the documentary. There was only one significant cast change from Berkeley to Broadway—Stark Sands was cast as Tunny, replacing Matt Caplan. "That was really a character thing. It wasn't an actor. It wasn't about that. It was really about shifting who that character was," Mayer says, emphasizing that they wanted someone with an all-American look to play the character that decides to enlist in the army.
In terms of casting, Mayer, who started working on "American Idiot" while "Spring Awakening" was still running, always pictured John Gallagher, Jr. as the Jesus of Suburbia. He even named the character Johnny after him. He cast some other actors he had worked with and the rest from auditions. "It's a gut feeling. You know it when you see it. You can't always identify it," Mayer says. "I love finding new people. I had never seen Ben Thompson before. He walked into the first audition for the reading, and I cast him."
Mayer says he loves working with new people, but his creative team is often made up of people he's worked with before. "There's something wonderful about the same team taking on a new challenge and to see what that's going to bring out in you," he says. "It makes it a safe place to take bigger risks."
A major theme in the film is how the cast and creative team become a family, which was a new experience for Armstrong. Mayer doesn't like to use the word family because it makes it seem trite, so he prefers community. "We had a community together," Mayer says. "It was something that we all believed in. And it was being documented."