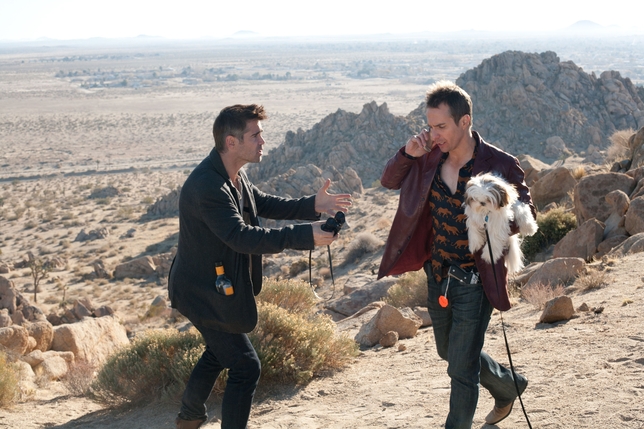 The cast of "Seven Psychopaths" is one of the most intriguing of the year. A dark comedy about the violence and chaos that ensues after a gangster's dog is kidnapped, it stars Colin Farrell, Sam Rockwell, Christopher Walken, Woody Harrelson, Tom Waits, Abbie Cornish, Olga Kurylenko, and Harry Dean Stanton.
Farrell plays the lead role of Marty, after starring in McDonagh's first feature film, "In Bruges." The struggling Irish screenwriter has been described as playwright-turned-filmmaker McDonagh's alter ego. Casting friend Farrell in a role so personal to, yet divergent from, McDonagh's real-life self was the perfect fit. "He knows me very well, so he knew the aspects of me that were true in it, but he was never trying to play me," McDonagh told Slash Film.
Farrell, like the rest of the cast, stuck to McDonagh's script but also made his character his own. Of Walken, who plays a friend of Marty's, McDonagh told The A.V. Club, "I can't hear anyone else's voice in that part, but the words weren't changed." He also said to Movieline, "I think it's a credit to how good they are as actors. They just take it and make it feel like it's completely natural, as if they're making this stuff up on the spot."
Besides Farrell, McDonagh had previously worked with the majority of the cast. In 2010 McDonagh directed Rockwell and Walken in his play "A Behanding in Spokane" and had met Harrelson, Cornish, and Kurylenko prior to "Seven Psychopaths." However, McDonagh had one more top casting choice he wasn't certain he could get—Harry Dean Stanton. "Like Walken and Waits, [Stanton's] been a hero of mine since childhood. I told the casting person [Sarah Finn] that he was my dream choice for the role," McDonagh said to the San Diego Reader. McDonagh recalled that Stanton was hesitant at first when he heard about the violence of the film. "When I told him he'd play a Quaker and the whole film is kind of a Buddhist take on Hollywood violence he said, 'I'm into Eastern philosophies. Sure. I'll do it,' " McDonagh said.
Sometimes building the perfect cast takes having a history with each of member, but when in doubt, cast your childhood hero as a chain-smoking Quaker.
Casting Director: Sarah Finn
Director: Martin McDonagh
Writer: Martin McDonagh
Starring: Colin Farrell, Sam Rockwell, Woody Harrelson, Christopher Walken, Tom Waits, Abbie Cornish, Olga Kurylenko, Harry Dean Stanton
The Pitch: A struggling screenwriter (Farrell) inadvertently becomes entangled in the Los Angeles criminal underworld after his oddball friends kidnap a gangster's beloved Shih Tzu.