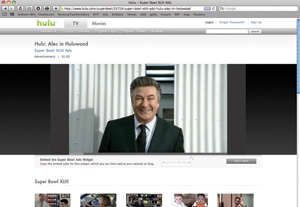 Hulu's tongue-in-cheek Super Bowl ad this year described the free online TV site as an alien plot designed to melt our brains and destroy the world. Given the upheaval in traditional media these days, one might wonder whether the joke is becoming reality.
After all, advertising dollars are increasingly moving away from broadcast television (if they're even being spent), and viewers are diversifying their entertainment sources, from video games to the Web to Netflix to their DVRs. But the Hulu ad might also hint at a way forward.  
"The best part is, there's nothing you can do to stop it," pitchman Alec Baldwin says of Hulu's coming world domination. "I mean, what are you going to do? Turn off your TV and your computer?" 
Certainly, no one's going to do that. The future of television, for better or worse, looks to be bound to the Internet. As viewership declines for the former and grows for the latter, producers want to retain control of their content across platforms, to ensure that it generates money wherever it appears. While this may result in some cannibalization of ad revenue between TV and the Web in the short term, industry analysts and even some actors acknowledge that the money will likely even out over the long haul. 
As it stands, traditional TV is still the cash cow for actors in terms of new programming and residuals-paying reruns. The Web is still some distance away from generating similar revenue and being able to pay actors a comparable sum. But the key, experts and union officials say, is making sure that actors' contracts are structured so that as Web content becomes more lucrative, compensation rises with it. 
And nearly all signs point toward an increase in online viewing. For example, in 2008 the Web outlets for the major TV networks, including Hulu—a free online video service co-owned by  NBC Universal, News Corp., and more recently the Walt Disney Co.—made up a combined 53 percent of the online TV market, which generated $448 million in ad revenue, according to a June report by Screen Digest. That number is expected to grow to $1.45 billion by 2013. 
With ads and the ability to target them to users growing, online TV ad revenue could match that of broadcast TV "in as little as three years," Arash Amel, author of the Screen Digest report, wrote. But Amel added that although online TV advertising will make up 2.2 percent of all U.S. TV advertising by 2013, it "definitely won't be generating enough to offset the $2 billion" drop-off expected in TV advertising in that period. 
Fine Young Cannibal
Advertising spending was down 5.5 percent on network television and down 3.6 percent on cable in the first half of 2009, according to a report released last month by TNS Media Intelligence, a company that measures ad spending. Nielsen (the parent company of Back Stage) measured the declines at 7 percent and 1.5 percent, respectively. Meanwhile, ad spending on the Internet was up 6.5 percent, according to TNS. 
Much of that growth is coming from online video. An Oct. 5 report by the trade group Interactive Advertising Bureau found a slight decline in Internet display advertising in the first half of 2009 compared to the same period a year ago, but it described growth in digital-video advertising as "robust" at 38 percent. And in the healthiest-looking corner of the only ad market that isn't collapsing like the New York Mets, Hulu is a player. 
In April, Hulu was the third most-watched online video site, according to comScore, a research company that studies the digital world. It had more than 41 million unique visitors watching 380 million videos, or 2.6 percent of the total online videos watched. By August, Hulu had slipped to sixth place, with more than 38 million visitors, but they watched more than 488 million videos, comScore reported.  
Despite its popularity, Hulu is on pace to lose money this year, according to industry analysts. While the company is tight-lipped about its revenue—it didn't respond to requests to comment for this article—Laura Martin of Soleil Securities estimated, in a report released last month, that Hulu will generate $164 million in ad revenue but will still be $33 million in the red. The three companies distributing content on the site are believed to split 75 percent of its gross revenue. 
Martin's report also predicted a worrisome effect on the networks behind Hulu if it continues to grow, saying that if "viewing is cannibalistic"—shifting from the TV to the PC—"we estimate $920 per viewer of advertising value is destroyed." When you add the loss of cable subscriptions due to viewers opting for Hulu's free content, that places more downward pressure on the market.  
"We think that Hulu was well conceived and well executed, and that it is likely to succeed," Martin wrote in her report. "We worry that if Hulu succeeds in its present form, it threatens valuation of many of the largest capitalization media companies, either directly or indirectly." 
At a tech conference earlier this year, Hulu CEO Jason Kilar insisted that the site doesn't cannibalize TV revenue. Whether that's true or not, the worry may be short-lived. Recently, rumors have swirled that Hulu might begin charging for its content if a deal is reached for Comcast, the major cable provider, to acquire part of NBC Universal. Hulu might then be bundled into Comcast's cable subscriptions, or another way could be found to charge users to access the site. 
Fight the Future
Jesse Hiestand, a spokesman for the Alliance of Motion Picture and Television Producers, said that in the shifting media landscape, actors should be concerned with the industry as a whole and not focus on TV-versus-online. 
"The greater concern for both talent and their employers has to be the traditional media markets, which are far greater sources of employment, compensation, and residuals than new media will be for years to come," Hiestand said. "Finding ways to keep these established markets vital in the face of piracy, DVRs, fragmenting audiences, and other pressures remains the top priority of the industry." 
As it stands, according to Hiestand, actors in new shows streaming on ad-supported sites such as Hulu can expect to earn—after a 17-day residual-free interval for new shows, 24 days for returning shows—3 percent of the "total applicable minimum" for the first six months. That minimum can range from the day-player rate of $782 per day to $3,263 per episode for an actor in a one-hour series with a 13-episode guarantee. If the show continues to stream for another six months, the compensation structure stays the same. But for a show streaming more than a year, 6 percent of the distributor's gross is split among the cast. 
  "With recent SAG and AFTRA agreements, actors are for the first time getting residuals for ad-supported streaming, and this participation could become significant as the market continues to develop," Hiestand said. "For now, streaming revenue is a tiny fraction of the overall TV business, and the streaming residuals, whether fixed- or percentage-based, naturally reflect that fact." 
But actors who turn a blind eye to viewership trends and the wage disparities among platforms may be putting their heads in the sand. Hulu is still nascent, said Todd Mitchell, a senior analyst for interactive media at Kaufman Bros., "but new revenue streams will replace old revenue streams." He believes that actors shouldn't fear Hulu the way musicians once feared Napster. Hulu is controlled by the producers of its content, so any money earned from that content will remain with those companies and, eventually, trickle down to actors. 
The traditional broadcast advertising model is "rapidly dying," Mitchell said. "Buying ratings is no longer acceptable." Going forward, advertisers will want to target a specific audience by demographic, region, and even time of day. TV in its current form can't provide that information, but sites like Hulu can. Eventually "Hulu will have the same format as TV will," he said. If Comcast gets into the mix by buying a stake in NBC Universal, this will accelerate the process, according to Mitchell, and ultimately the company might "just wrap Hulu into a subscription that will subsidize eyeballs moving away from TV." 
Many actors have seen the transition from TV to the Web coming for a while and aren't overly concerned about their world being destroyed by Hulu's alien invasion.  
"Maybe that means the era of the huge payday from one or two national TV spots is over," said Holter Graham, an actor and president of the New York local of the American Federation of Television and Radio Artists. "Most of us who do this for a living and are realists have known that for about 10 years." 
Over the next 10 years, either new-media advertising will keep the TV industry afloat or the industry will sink, Graham said. As for the latter, he added, "There are a lot of powerful people working very hard to cover their own asses who won't let that happen."