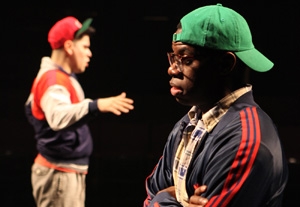 The final day of the industry weekend of the Humana Festival of New American Plays at the
Actors Theatre of Louisville
featured only one performance, but there was still plenty to take in. Sunday morning dawned, and I interviewed ALT's new artistic director
Les Waters
who took over the position from Marc Masterson, now artistic director at South Coast Repertory.
When asked about the state of regional theatre given the precarious condition of the economy, Waters replied, "We all have a lot of challenges. You can't say the economy is robust. I talk with a lot of colleagues in the theater and everybody is up against the same problem."  But he's optimistic about his vision for the future of ATL.
"I'm very interested in exploring work that deals with issues in the local community," he said. "I'm interested in the intersection between contemporary and classic work and getting a diverse, eclectic season out there."
He sees the Humana Festival as a dominant force in the production of new works. "It's one of the major festivals that actually show new plays in production," he said. "A lot do work where things are in readings or workshops. Here they get a full production."
He offered this advice for actors: "Track down people you're interested in working with. That applies across the board in all forms of theater. Get in touch with them and see if there's a way of working with them." He mentioned new plays and the works of Chekhov as pieces he's planning to incorporate in future ATL seasons. 
A fascinating one-hour panel with playwrights describing their "dream theater" followed my interview. Adam Rapp drew one of the most positive responses from the audience by going into details about his ideal facility, which would feature separate spaces for film, rock and roll music, and drama as well as a bookstore and café. One of the most important points he stressed was providing season-long salaries and health benefits for actors to stay committed to his imaginary venture. "Because we all want to have kids and sofas and stuff," he joked. Molly Smith Metzler said she would have a special second stage just for comedy, and Anne Washburton said no one in the audiences at her theater would know who wrote the plays and the works would never be reviewed so there would be no pressure based on critical reaction or perception derived on the author's reputation.    
The festival weekend ended with a performance of
Idris Goodwin
's "How We Got On," a clever coming-of-age play about three minority kids in the suburbs seeking to express themselves through rap in the 1980s. Hank is brilliant with rhymes but lacks the charisma to perform them. Julian has stage presence to spare, but can't come up with his own material. Despite their differing temperaments, the two teens collaborate on a series of explosive works giving voice to their frustrations. When a daring girl named Luann, who also wants to perform, comes between them, their creative and personal relationship comes apart. An omniscient deejay-narrator figure (the scintillating Crystal Fox) plays all the other roles and provides commentary and social context on the history of rap and hip-hop. Goodwin's play takes a pop cultural phenomenon and shows how it affects and transforms the young people who make it their own, wrapping up the Humana Festival on a fresh and fly note.