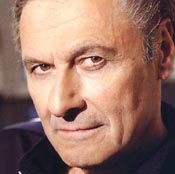 The name Meyer Lansky usually conjures up the image of a mobster. But to Joseph Bologna, Lansky was a tragic figure. "He was a brilliant man who could have been anything he wanted, but he chose the wrong road," says Bologna, author (with Richard Krevolin) and director of the Off-Broadway solo play Lansky, starring Mike Burstyn. "Lansky was never convicted of a crime, he never served time in jail, and if he did it was for a misdemeanor. At the end of [Lansky's] life his father [symbolically] sat shiva for him, and they never spoke again. And he was unable to be buried next to his beloved zeda [grandfather], who had moved to Palestine, because the law of return that allows all Jews to be repatriated to Israel was denied him. For the real Lansky, it all might have been a façade -- he may have just wanted to go to Israel to get away from the American authorities -- but according to him he wanted to be buried next to his zeda. So as a playwright, I say this life is tragic."
In the play, inspired by Robert A. Rockaway's book But He Was Good to His Mother, Lansky emerges as a genial businessman pursuing the American dream, whether he was engaged in bootlegging or forging a gambling empire in Vegas, Havana, or Miami.
Though parts of the piece are imagined -- such as Lansky's love of pastrami sandwiches or his enraged conversation with Israeli Prime Minister Golda Meir -- it is accurate in its broad strokes and always true to the spirit of the man, Bologna insists. Maintaining that balance was challenging, he adds. Another challenge was directing an actor Bologna did not cast. After Burstyn saw the play in Israel, he contacted Bologna to say he wanted to do it in New York and helped pull together a producing team. Bologna acknowledges that without Burstyn the play might have just "sat in the drawer."
"If I do the casting, I may have a preconception of the character, and I can think about all the actors who could do it," says the gregarious, Brooklyn-born Bologna. "Or I bring actors in for readings and see who fits my image. But with Mike, my job is to get the best performance from him without forcing him into things that are wrong for him. I have to help capture those elements in Mike that are special -- he has tremendous rapport with an audience, he's very likable, and has a great sense of humor -- that also work for Lansky. Look, if he had qualities that were all wrong for Lansky, we'd have a problem. But that is not the case."
Writing Is No. 1
Bologna is a triple threat: writer-director-actor. He's probably best known for his stage and screen collaborations with his wife of 49 years, actor-writer Renée Taylor. Writing is unequivocally No. 1 for him, mostly because he can do it on his own -- unlike acting and directing. More important, the script is the determining factor in any production or film. "If you have a great play and give it to a journeyman director and journeymen actors, it'll still be terrific," Bologna says. "But if you take a bad play and give it to the best director in the world, the best actors in the world, it's still going to be a play that doesn't work. Most of the best actor awards are not won by best actors but by best scripts."
Bologna's first ambition was to be an architect. He majored in art history at Brown University but launched his professional life in advertising, ultimately moving into directing commercials and then documentaries. He earned his living behind the camera for five years before marrying Taylor, at which point they began collaborating as writers. Professional acting was the final lap of his journey when he made his film debut in Made for Each Other, which he co-wrote with Taylor.
"I went from being a director to a writer to an actor," Bologna recalls. "I'm the only person I know who went that way. But having done all three, it's a gestalt. The actor is like a child, who is closest to his feelings. The writer is like the adult, who smokes the pipe and says, 'You can't have the cookie now; you have to wait until the end of the meal.' The director is like the parent who molds the child, without forcing himself on him."
Bologna admits the roles he has most enjoyed playing are those he's written, though My Favorite Year was a notable exception because the creative team for that film welcomed his input. It's the same with small independent films "that don't pay a lot of money but they're thrilled to have me and say 'Do whatever you want,' " he comments.
"I was never an actor who said, 'Oh, I can't wait for my next role.' In fact, when the phone rings with a part, I get agata because I don't want to bother. What's out there, especially at my age?" he asks rhetorically. "There's disease of the week on some doctor show or dumb flatulent grandfather. Having said that, I've taken parts on television and in movies that are not great but they paid well." Bologna has no regrets about roles he has turned down, only those he should have nixed and regrettably didn't.
His professional and artistic turning points were his early collaborations with Taylor. "Before I was married I wrote special material for standup comics and revues," he says. "But when I wrote with Renée for the first time, I was writing personal stories -- about my friends and family. That was a revelation. I was finding my voice. The Oscar nomination for Lovers and Other Strangers gave us both careers. And following the release of Made for Each Other, for the next 20 years I was getting starring parts."
Still, he had to grapple with the reality that talent is not always the most important factor in success. "Sometimes talented people are successful, but sometimes people with minimal talent are successful, including superstars who in an acting class would be viewed as the students that will never work," Bologna says. "To be successful you have to have the talent to be at the right place at the right time. There are people who have the knack to be at the right place at the right time."
Asked how he thinks the industry has changed, Bologna talks about the burgeoning number of aspiring actors and the competition that's gotten keener. He also notes the overriding role of finance in all decision-making. "Even in studio days it was about putting out product, not about how much money we will make with this movie or that TV program," he says. "Renée and I had a screenplay with one company, and they were on the fence about it. Then they brought another film out, and it was a commercial hit, and we thought now they'll make our movie. It was just the opposite. Once they had one hit they were determined to have another multi-billion-dollar film."
Despite the difficulties of a showbiz career today, Bologna says if he were starting out he'd be doing the same thing. His advice to all theatre and film artists: Do the work because you have to do it and for the creative fulfillment it gives you. Don't do it because of the financial rewards or popular or even critical acclaim. "But don't give up your day job," he says.
Lansky is an open-ended run at St. Luke's Theater, 308 W. 46th St., NYC. Tickets: (212) 239-6200.
Bio Brief
-- Has appeared in such films as The Woman in Red, Blame It on Rio, Big Daddy, and most recently The Boynton Beach Club
-- Earned an Emmy (with Taylor) for the television special Acts of Love and Other Comedies and a Writers Guild Award for the HBO special Bedrooms
-- Helmed such plays as King Levine (a comic King Lear, written with Richard Krevolin), Metrano's Accidental Comedy, and An Evening With Golda Meir
-- Is currently touring the country with Taylor in their Broadway play If You Ever Leave Me... I'm Going With You