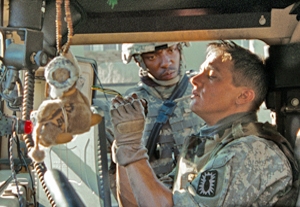 The Iraq-set drama "The Hurt Locker" set off fireworks as the National Society of Film Critics voted Sunday.
The last major critics organization to check in with its 2009 kudos, the 64-member group named the Summit release the best picture of the year and hailed Kathryn Bigelow as best director and Jeremy Renner as best actor.
The group also chose Yolande Moreau as best actress for her performance as French painter Seraphine de Senlis in the biopic "Seraphine." Moreau, who picked up the prize as best actress at France's Cesar Awards, also was named best actress by the Los Angeles Film Critics Assn. last month.
Although the National Society sometimes breaks with other critics groups -- last year, for example, it named "Waltz With Bashir" as the best pic of 2008, and it hailed "Pan's Labyrinth" in 2006 -- it lined up with other organizations that have already hailed "Locker," which has been crowned best picture by critics in Los Angeles, New York and Washington while also picking up Gotham Awards for best film and best ensemble.
The award for best supporting actor resulted in a tie, with Christoph Waltz of "Inglourious Basterds" sharing the honor with Paul Schneider, who plays a friend of poet John Keats in "Bright Star."
Mo'Nique, another of the season's awards favorites, was named best supporting actress for "Precious."
Joel and Ethan Coen took home best screenplay honors for "A Serious Man," their modern-day retelling of the story of Job.
Olivier Assayas' French-language film "Summer Hours," about siblings dividing up family possessions in the wake of their mother's death, was singled out as best foreign-language film.
French director Agnes Vardes' autobiographical documentary "Beaches of Agnes" was chosen best nonfiction film.
The cinematography prize went to Michael Haneke's "The White Ribbon" for Christoph Berger's black-and-white photography.
The award for production design went to Nelson Lowry for "Fantastic Mr. Fox," Wes Anderson's stop-motion adaptation of the Roald Dahl book.
David Sterritt, current chair of the society, presided over the group's 44th annual voting meeting, with critics from across the nation weighing in.
---
-- The Hollywood Reporter