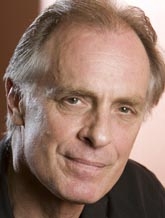 Keith Carradine is still probably best known for his role as a womanizing folk singer in the 1975 Robert Altman film Nashville, for which he also wrote and sang the Oscar-winning song "I'm Easy." Now he's about to play the mercurial, menacing Dr. Alex Farquhar in an Off-Broadway production of Anthony Horowitz's Mindgame, a mystery-thriller with twists and turns galore and no shortage of black comedy. "There is an implicit level of violence — a capacity for violence — that lies beneath his character," says Carradine. "There's the changeability of his nature. I thought that would be challenging and fun to do, more out of the pocket for me." In fact, Carradine was initially offered another, meeker role to play.
Born in San Mateo, Calif., the 59-year-old actor says he has grappled with typecasting throughout his career, usually playing the sensitive anti-hero: "But also there was this rural patina applied to me. There was Nashville, and I've done my share of Westerns. It's a double-edged sword. You say you've been typecast, but it means you did something that worked. Pity the actor who's never lucky enough to end up in the right role and have it work so well that people want him to play it all the time. It's a kind of success, really. At the same time, you're interested in your own craft and interested in the joy of exploring yourself through this crazy entertainment business of acting. Really, it's a kind of therapy, isn't it? When you get a chance to play all these different parts, you might discover a different aspect of your own nature."
Mindgame is a three-hander helmed by film director Ken Russell (Women in Love, Tommy, Altered States), and it marks Russell's New York stage debut. It's also the first time in years that Carradine has acted Off-Broadway. He was last seen on Broadway in 2006 as a replacement in Dirty Rotten Scoundrels; he was also nominated for a Tony Award for his title performance in The Will Rogers Follies and appeared with Jessica Tandy and Hume Cronyn in Foxfire.
Carradine has no idea whether Mindgame will make it to Broadway, but he says that should never be a consideration when choosing a stage role. Though the quality of the writing is what draws him to any project, he admits he'll occasionally do a film or TV show for the money. "It's pretty much a rule of thumb: The more they pay you, the worse the material is," he says. "I couldn't go into a play if it were dependent on whether it would go to Broadway. That's a pipe dream. You go into something for its own sake. If you take a job for results, you'll be disappointed. Even Will Rogers, a wonderful success, didn't lead to anything for me, at least not in Hollywood."
The role of Farquhar is not without its hurdles, starting with its sheer size and the play's physical violence. "We want to be convincing and at the same time safe," Carradine says. "And there's the challenge of doing this play in this space. It's a constriction and enhancement. It's a psychodrama about psychodrama. So the intimacy of the house is a plus because it will help the audience feel part of things. But the small space is a challenge in adjusting the stage action. The tone is challenging because you have to get it just right. It's a razor's edge. It's a delicate balance between tension and absurdity."
Neither Horowitz nor Russell doubt that the actor has succeeded. "Keith Carradine is one of the most charismatic and talented actors going," Russell writes to Back Stage. "He combines flair, dignity, charm, and merriment in a potent mix that's very sexy. For Mindgame, I needed someone who could be intense, sinister, and authoritative, as well as lighthearted and reassuring — a lot of contradictions. Keith's creative abilities to evoke the endless nuances of threat and seduction are what this part requires." Horowitz adds via email, "Long Riders has always been one of my top 10 movies of all time, and it is dominated by Keith Carradine's extraordinary presence. His work in film and television has made him something of a legend, and I'm both stunned and delighted he has agreed to play the lead role in Mindgame."
'Hair' We Are Again
Carradine is part of a theatrical dynasty. His father is the late John Carradine (The Grapes of Wrath, The Man Who Shot Liberty Valance), one of his brothers is Robert (Revenge of the Nerds), and David (Kill Bill, Kung Fu) is his half-brother. Carradine's daughter is actor Martha Plimpton, who will open on Broadway in Pal Joey in December. Like other industry scions, he says the family name opened doors but also put added pressure on him early in his career: "There was a higher bar to get over to be accepted. They assume you're only there because you're riding on coattails. So you kind of have to have even more to offer."
Growing up, however, Carradine was not affected by the industry at all. "My dad kept us away from it — he was not showbizzy — and I was a regular kid," he recalls. "My passion was baseball, being outdoors, running and playing." Musical talent was also evident: In high school he was a member of a bluegrass band, but he "settled on acting," he says. Still, at Colorado State University, he majored in forestry, thinking "I'd be a forest ranger. I thought I'd go out there with my guitar and write songs and watch for fires. I still feel most revitalized in that environment. Part of my nature still craves being in a place unchanged by human activity."
But the science courses were not for him. He switched to English with a minor in drama but ultimately dropped out, returning home to take a job at Pacific Gas and Electric as a mail clerk. "I wore a little cotton gray coat and sorted mail," he recalls. "One day I was in the elevator with my pushcart full of punch cards. I remember this imperious-looking executive looking at me and saying, 'Now, there's an up-and-coming young executive.' And I thought, 'No way!' It was the era. I was very much a child of the '60s, I don't deny it. My first [acting] job was in Hair, for God's sake."
When Carradine first saw that musical at the Aquarius Theater in Los Angeles, he was "slack-jawed," he says. "I felt, 'I want to do that!'" A few months later auditions were held in L.A., and Carradine, who had no professional acting credits, went along as an accompanist for his brother David. At the end of the audition, David was thanked, and Keith was asked if he sang. He proceeded to do so — with the first song he had written — and was cast. "They put me in the show, gave me two weeks of boot camp, and sent me to New York," he says. After a year on stage in New York, he returned to California, where he landed his first film, a Western called A Gunfight, with Kirk Douglas and Johnny Cash.
That's Hollywood
Carradine has worked fairly steadily since then, thanks to talent, luck, and — as agents called it — "the face." The actor cringes at its mention: "Now, that's Hollywood for you, isn't it? You come to New York, they want you to stand on a stage and do something. You go to Hollywood and they want to look at you. That says it in a nutshell‌. I remember Jessica Tandy talking about coming to Hollywood for a meeting, and the first question she was asked when she came into the room was, 'How tall are you?' And she thought, 'Oh, no, not for me.'"
Carradine undoubtedly proved his mettle as Tom Frank in Nashville. All these decades later, it's still the most challenging role he has done, he says. "I didn't like the guy. I was a young actor, and I couldn't separate myself from who I was being asked to play. I felt that by playing that person, people would think that's who I was." He credits Altman for inviting him to bring that part of himself that hated the character to his performance. The result, he says, was a complicated, self-hating figure.
Carradine went on to appear in the Altman films McCabe & Mrs. Miller and Thieves Like Us. He has also enjoyed working with directors Alan Rudolph (an Altman disciple), Louis Malle, and Walter Hill, all of whom made him feel "challenged and secure at the same time," he says.
Nonetheless, his feelings about the industry are ambivalent. He's bothered by today's instant celebrity based on charm and sexuality. He's equally perturbed by the proliferation of films specializing in aural and visual assault rather than storytelling. But most of all, he has real problems with the kind of money that producers can make and actors can't. It angers him so much that he became a vocal activist on behalf of the Screen Actors Guild. He's a member of SAG's Hollywood board of directors as part of the Membership First slate, though he says it was JoBeth Williams who forced him into the role by telling him, "We need you, we need you."
On the possibility of a strike by SAG actors, he says, "I hope against hope that there is no strike. It does no one any good. But what is being offered us is not fair. And there's the rub. The producers need to play fair. And apparently the only way to achieve it is with the threat of a strike. They won't talk to us unless that threat is on the table, which is a pity. We're not asking for what they can't afford. We know we'll have to give things up. It's a question of how much. All we're asking is that, as the new media develops, we participate the way we always have. And what they're trying to establish from the get-go is that we don't. That's the issue."
The subject of money is personal for Carradine, who says if he could replay his career, he'd be "smarter with my finances, so I didn't wind up in a position where I had to take jobs that weren't necessarily furthering the quality of my body of work." He points to great roles in the classics that he should do and hasn't. "I need to step out," he says, noting that director Daniel Sullivan invited him to play Cassius in the 2005 Broadway production of Julius Caesar, starring Denzel Washington. "Had I not been involved with Deadwood at that time, I would have done it."
Asked which role he's most proud of, the one that most defines him as an actor, Carradine doesn't miss a beat: "This one. I'm always in the present, or I try to be. If I do this role right, I never will have been better. I will have done my best work. But I want to say that every time I work."
Outtakes
Played Wild Bill Hickok on HBO's Deadwood and FBI Special Agent Frank Lundy on Showtime's Dexter; currently he's appearing as Agent Carl McGowan on Numb3rs
Appeared with his brothers David and Robert as the Younger brothers in The Long Riders
Had roles in the films Southern Comfort, The Duellists, and Mrs. Parker and the Vicious Circle
Painted the poster for The Moderns, a film he appeared in
Mindgame opens Nov. 9 at the SoHo Playhouse, 15 Vandam St., NYC. Tickets: (212) 691-1555 or www.sohoplayhouse.com.