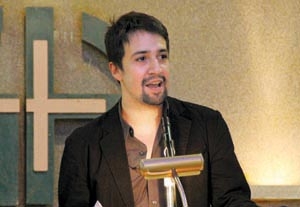 A hospital provides artists with the chance to practice their craft in exchange for medical treatment.
The Lincoln Medical and Mental Health Center in the Bronx announced in January the launch of an initiative that allows artists of all disciplines to perform creative services to receive health care. The program, Lincoln Art Exchange, was formed to address the increasing number of freelance and independent performers who lack the funds to enroll in health insurance plans. "Our goal is to reach those who may not have access to health care, especially those that have inadequate health insurance or none at all," said Colette M. Barrow, program coordinator for Lincoln Art Exchange.
To be accepted to the program, eligible artists—anyone making a living through creative means, including actors, musicians, dancers, poets, and writers—must go through a screening process that involves an interview portion. Barrow explained what that would entail: "When people come into my office, we talk about their background, their particular discipline, and the experiences they have had in their craft."
During the interview artists often show Barrow examples of their creative services, such as a video of a monologue from an actor or murals on the website of a painter. Barrow recalled meeting someone who was a crochet artist and brought in samples of her work. "The interview process is really the time for me to get to know people and think about ways that we can use them in the hospital," she said.
If accepted in the program, artists will participate in various activities, such as performing at special events for the hospital, reading to patients, and creating murals, that may improve the hospital environment for the staff and patients. For every hour of creative activity, the performer earns 40 "health credits" (the equivalent of $40) toward medical treatment. When enough credits are accumulated, artists may receive an array of hospital services, such as laboratory tests, medical and surgical procedures, dental care, and prescriptions.
Tony winner Lin-Manuel Miranda, among others, has agreed to partner with the Bronx hospital and promote its program. Miranda's father was the former head of the board of New York City Health and Hospitals Corporation, of which Lincoln Hospital is a part. Barrow said Miranda was "more than willing to participate in this project" because of his family's relationship with HHC and his efforts to aid artists in need.
In a written statement Miranda said, "This is an exciting, potentially win-win venture for both New York City Health and Hospitals Corporation and the artistic community. There are many uninsured artists in New York City, and to be able to contribute their creativity and talents at Lincoln Hospital while simultaneously gaining access to medical care, is ingenious."
The Bronx health center is the second HHC facility to implement an artist exchange program and the only one in Bronx County. The initiative was first introduced at Woodhull Hospital in Brooklyn in 2005. Barrow said, "It's developed over the years, and they really see it as something that has impacted the art community over in Brooklyn. As we progress in the program, we will make changes as need be." Lincoln Hospital is following the same model for the program that was established at Woodhull.
There is no limit to the number of people accepted to the program, but the level of participation for each approved artist varies. Barrow said, "For instance, I have one person who is interested in coming in once a week and having an ongoing contribution on his part. I have another person who wants to work on one project at a time." Barrow and the artist discuss ways to work with the schedules of the artist and the hospital, so both parties benefit.
Barrow said, "We would love to see this take place at other HHC hospitals. Some are talking about it and are in the planning stages, so we expect to see others do the same."
For more information, call (855) 546-2787 or visit www.nyc.gov/hhc/lincolnartexchange.