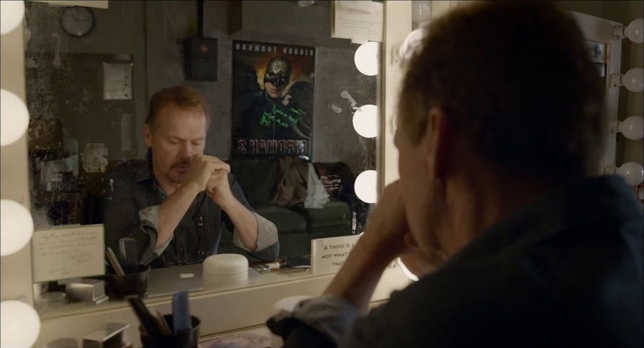 Film Independent Spirit Award nominees Michael Keaton, Emma Stone, and Edward Norton sat down at the New School in New York City on Jan. 5 as part of a series of panel discussions with the Screen Actors Guild Foundation and Backstage. The three actors spoke eloquently about their experience in Alejandro González Iñárritu's "Birdman or (The Unexpected Virtue of Ignorance)," a movie that, as moderator Annette Insdorff pointed out, required an intense level of craft and poise.
Filmed as several lengthy scenes stitched together to resemble one two-hour take, "Birdman" follows a former matinée idol (Keaton) trying to direct and star in a Broadway play, all while haunted by his superhero alter ego. Enmeshed in the dressing-room drama are his daughter (Stone), a recovering junkie, and a bombastic theater actor (Norton) with a lot to say about the difference between art and commerce. Iñárritu's dark comedy has performed favorably with critics and audiences alike, prompting Insdorff to ask the panelists whether they expected such success going into the project.
Keaton called the story "the ultimate write-what-you-know," praising writer-director Iñárritu's previous work and making it clear that although filming "Birdman" was difficult, he knew the project had promise. As with any role, he said, the initial question is about finding the truth of a role or a scene: "Frankly you just say, 'What's the job?' " Upon reading the script, Stone remembered, "I thought actors would be the only ones that could relate to this movie." In both form and content, she went on, the film embodies the narcissistic insecurities specific to theater and film actors alike.
Norton took the idea a step further, saying "everyone in this movie is Alejandro." In developing his characters, the actor explained, Iñárritu projected his own anxieties and inner conflicts onto the screen, channeling Freud's interpretation of dreams. Asked about the story's setting, Norton agreed there is a "uniquely New York spirit" to the film, to which Keaton jokingly added, "Phoenix wouldn't work."
All three actors had much to say about the actual filming process, which often entailed intricately choreographed 12-minute scenes that, when finished successfully, would have the entire cast and crew cheering. Unable to hide behind editing optionality, the goal became what Stone referred to as "dancing with the camera man," both pretending the cinematographer wasn't there and knowing exactly where to hit ones' mark. Keaton and Norton acknowledged the stamina the endeavor required, but once within a scene's tight structure, were able to zone in and let everything flow organically. Norton even found himself wondering, on a technical filmmaking level, "Why do we do this any other way?"
In terms of advice, Keaton preached about listening and the value of making mistakes without fear. Stone echoed the sentiment, quoting Elia Kazan: "I am not a cosmic orphan. I have no reason to be timid." Actors instinctually tend to shrink onstage or on camera, and a willingness to look foolish is the key to combating that. Lastly, Norton advised actors to work with talented people, and if you find them, keep working with them. He added, tongue-in-cheek, "Never follow Michael Keaton and Emma Stone."
Inspired by this post? Check out our film audition listings!