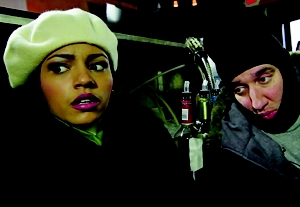 Adam Moore
Equal Employment Opportunity and Diversity Director, SAG-AFTRA
"We know through decades of research that this common cultural environment that we all engage with, which is the screen, affects how we think about ourselves and the world around us. If you don't see yourself reflected, it says a couple different things.
"If you don't see your family or what you look like or your experience reflected in the fictional environments -- and more increasingly the real environments in reality television -- if you don't see yourself reflected there, it reinforces this idea that you may not have the same place at the table of society that other people do. And specifically for this industry, if it's something that you think you might want to get into, if you might want to be an actor or get into this business, there's not a real road map for you. There's no example for you to say, 'Well, he's doing that, so I can do that. That's not so crazy for me.' How many people do we see accepting awards who point to the trailblazers, the Sidney Poitiers of the world who made it OK for them to want to go to drama school, made it OK for them to tell their parents they were going to run off to L.A. to go make it in the movies?
"So if you don't see yourself and your experience reflected, it will do something to your idea of your own self-worth, not only in society but also perhaps your ability to make it in the business."
Carol Shamon Freitas
Owner, Shamon Freitas Talent Agency
"I think the type of roles have changed. Twenty-four years ago, it was more gardeners and all of these stereotypes, and now I notice that commercials are being made. One of the hugest requests we get is this request for -- they call it vague ethnicity, like somebody who looks like they could be this or could be that. That is in the last 10 years. The other thing I noticed from breakdowns from L.A. is they have the same breakdowns for, you know, Caucasian and then they'll have the same breakdowns for other ethnic groups. The breakdown will come out and they'll say, 'soccer mom and soccer kid, Caucasian,' and then 'soccer mom and soccer kid, African-American.' They're trying to reach every market."
Gail Jones
Founder and director, Talent+Plus/Los Latinos Agency
" 'Ethnically ambiguous' -- that's the new term. "So I say, 'Look, ethnically ambiguous is really what you're being cast as, because you're not blond and blue-eyed. So you actually are more marketable, because now you could be maybe Italian, maybe you could be eastern European, maybe you could be Middle Eastern, or you could be Caucasian with a darker look.' You see brunettes or some people that you just look at it and you think, 'What is their ethnicity?' You can't quite put your finger on it, and I know a lot of advertisers now are kind of going toward what they call ethnically ambiguous looks. So it goes out to all possible demographics for advertisers. You're not really what that person is, but they could be anything really."
Julia Ahumada Grob
Creator and actor, web series "East WillyB"
"When we started, it was before the 2010 Census had come out. So when you said 'Latino,' people still thought Spanish-language. So whereas they knew from the industry level that there was this English-language population, all the thinking about Latinos had been focused on Spanish-language content. Advertisers wanted to advertise in Spanish to reach Latinos.
"So there was that issue matched with the fact that we were coming to the table with a web series, and nobody had matched Latinos and the web, even though all the research was coming out that Latinos are some of the most active consumers of mobile phones, of media through their mobile phones. So we'd go to studios and to producers, and they'd be like, 'Well, we know we need to do this, but we just haven't figured out how to monetize it yet. Come back to us in a year, and maybe we will have.'
"The bulk of the Latino population is under 30, and a huge majority of us are now English-language dominant. I think the lines of ethnicity mean less to us than the studios think. I'm Chilean, and you don't see a lot of content about the Chilean experience, right? So I'll watch 'La Mission,' about Mexicans in the Mission, and I'll watch 'Gun Hill Road,' about Puerto Ricans in the Bronx, and feel a level of connection. That's always my pushback from the studio response. I think it's about authentically speaking to our stories."
Manuel Alfaro
Executive director, Hispanic Organization of Latin Actors
"It was brought to our attention by an audience member, who happened to be an HOLA member, that they were upset at the fact that this show [the 2011 TheaterWorks production of Stephen Adly Guirgis' play 'The Motherfucker With the Hat' in Hartford, Conn.] represented Latino characters, and two of the main characters that were Latino in the script were not cast as Latino -- which is all right, because if you have no Latinos available to reach out to, then you hire whoever is good enough to handle the work. I really believe that. You get the best available actor.
"But this was a show that was cast in New York. Only one Latin actor was cast, in one of the roles that you had to be Latin -- you couldn't play with it. So we were upset about it. The playwright did not realize the play was cast that way, and he was very specific when he wrote the play that he had in mind real Latinos to play these particular roles. We were concerned simply because there are not enough roles out there that are representative, and when we lose an opportunity for important roles like these that represent Latinos, that can be represented fairly by ourselves, we're upset. We wish for the day when there's so much work available that we're not enough in numbers to cover it. Take anybody! Fill the roles! But I don't know if that day will ever happen."
Sig De Miguel
Casting director, PalmStar Entertainment, "Gun Hill Road"
"Although there is an upsurge in successful Latino directors in the industry, they are not necessarily doing Latino-themed films with Latino casts. The Latino film as a viable product in the film industry hasn't fully been realized. Success begets opportunity, and by having more Latino-themed films that are successful, this will continue to open doors and create more opportunities for actors, writers, directors, producers.
"We have to look at the history of African-American film from the '70s to present time as an example of where we can go with Latino filmmaking. Although there is always room for growth, we are seeing many successful commercial releases of African-American films by African-American filmmakers with strong African-American casts -- and they are doing very well at the box office, thus creating more opportunities for African-Americans in front of and behind the camera. I believe that it has to start with great scripts. That is the foundation for a great film. And from there we need more financiers who are willing to see the great opportunities that lie in Latino filmmaking."