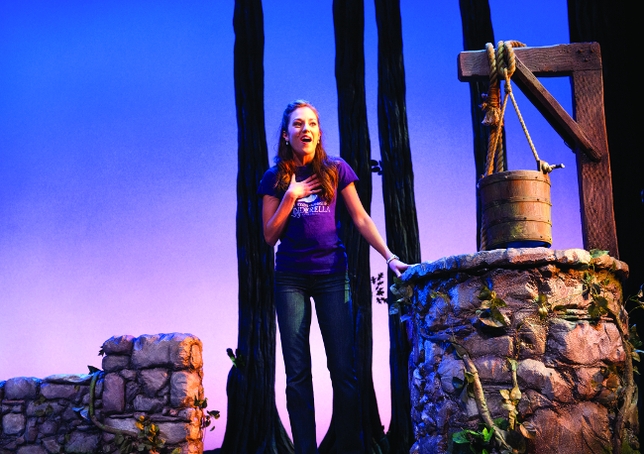 Yellow school buses dominated 53rd Street Dec. 5, when 3,200 children visited the Broadway Theatre to go behind the scenes at "Rodgers + Hammerstein's Cinderella."
Hosted by Inside Broadway, an organization that has been introducing New York City public school children to theater for 32 years, the event showed the students all aspects of what it takes to make a Broadway show. Cast members Laura Osnes, Rebecca Luker, and Andy Jones sang songs, while the production stage manager Ira Mont spoke to people from the properties, lighting, and sound departments to convey the technical aspects as well.
"If I had been able to do something like this as a child, it would have been incredible," says Luker, who received the organization's Broadway Beacon Award in 2007. "We're teaching children at a very young age to love theater and appreciate every aspect of it. It's going to keep theater alive."
While the children oohed and aahed at the musical numbers—particularly during the Prince and Cinderella's kiss—they were more fascinated by learning how the set moves, watching the fog fill the stage, and having the stage lights turned on them.
"Children have a tendency to think of theater as just being the actors," says Michael Presser, executive director of Inside Broadway. "But all of the technology and all the production and all those people behind the scenes, they're all working to make it possible for the actor to do their job."
The props presentation was a particular highlight for the kids, as properties department representative Eric Castaldo showed the children how Cinderella's pumpkin bounced like a basketball and her carriage operated like a bicycle.
"My favorite part is when they showed the props," says Shenyle Acosta, a fifth-grader at P.S. 69 in Queens. "I would like to be one of the people who do the props because you get to experience how the props are moved."
The children asked a wide variety of questions including, "Did you go to school and where did you train?" and "At what age did you know you wanted to be an actor?" But the final question was the most touching: One of the students wanted to know, "What do you love most about your job?" Jones poignantly answered, "This!" The other actors onstage agreed.
"To be able to do something like this for them is just mind-boggling," explains Osnes, who received the 2013 Beacon Award. "It's very rewarding. It's humbling to remember where we came from and remember why we do what we do."
And the kids were appreciative and recognized everyone's dedication to the arts.
"It made me think deeply how much everybody worked and how much effort they put into it to make such a wonderful production, and how you just can't overlook that," says 10-year-old Marc Argulza. "And I thought it would be really fun to do that too."