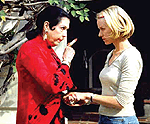 In October, word began to spread that a group of Hollywood's most prominent young directors, led by Steven Soderbergh, Spike Jonze and Sam Mendes, was banding together to form a company through which they would make their next movies. The company, F-64, planned to finance and distribute about three films apiece from each of its directors over a five-year period, at a total cost of several hundred million dollars.
Had F-64 launched 30 years ago, it would have seemed like nothing so much as an attempt by a maverick group of directors to assert their freedom from the "factory" system, to lash out against the behemoth that controlled them. But what is so striking about the current crop of young directors is exactly the opposite: how seamlessly they work with the studios and how willing they are to be collaborative and open minded.
Directors such as Soderbergh ("Traffic"), Mendes ("American Beauty"), Kenneth Lonergan ("You Can Count on Me"), Mimi Leder ("Deep Impact"), Alexander Payne ("Election"), Christopher Nolan ("Memento") and Baz Luhrmann ("Moulin Rouge") are thriving not by asserting their separateness from the studios but by working hand in hand with them.
Call them not the wild bunch but the mild bunch.
During the late 1960s and early '70s, several directors came to prominence in Hollywood and redefined how the public thought of film. Helmers including Robert Altman, Hal Ashby, Francis Ford Coppola, John Milius, Sam Peckinpah and Martin Scorsese, were iconoclastic not only in the way they saw motion pictures but also in how they dealt with the studios.
The "raging bull" stories have become part of Hollywood myth: how Coppola allegedly kept ditching his assistant directors in order to prevent Paramount from firing him on 1972's "The Godfather" or how Altman assured his studio that the desaturated look he had created for 1971's "McCabe & Mrs. Miller" was a lab problem that would be fixed in postproduction. Those directors saw the studios very much in a "them vs. us" light.
For the new generation of filmmakers, however, the opposite is true.
"(Pictures) are huge enterprises now," says Fox Filmed Entertainment chairman Tom Rothman, considered one of the more filmmaker-friendly executives. "The expense involved in making them dwarfs anything that could have been imagined in the '70s, and the marketing and distribution issues are vastly more complex than they were then. You have to have people who respect each other on both sides for the marriage to work."
Such marriages are not without conflict, but by and large today's cutting-edge directors are a much less confrontational group than their predecessors.
"Whoever is signing the checks, no matter how much freedom they say they will give you, usually there is a conflict," Luhrmann says. "The question is, can that be positive or not? I seek out conflict, involvement, discussion with a studio -- and sometimes it can be a really useful and positive creative process."
Says Nolan, whose first studio film, "Insomnia," was released domestically May 24 by Warner Bros. Pictures: "I came at the process having grown up hearing all the horror stories. But I found that it wasn't true at all and that the studio wants you to supply a degree of freshness and innovation."
For Payne, whose "About Schmidt" is slated for release in November by New Line, the director-studio relationship was straightforward.
"I had final cut and complete cast and crew designation rights after we all agreed on (the film's star) Jack Nicholson," he says. "In my experience, when they give me that type of control, I am much more open to listening to their ideas. There exists a gun which no one wants to take out of the holster -- but I'd rather keep it under my bed.
"(Filmmaker Quentin) Tarantino has this line which goes, 'The person in the room with the most point of view wins,'" Payne adds. "Because no one really knows how a movie should be except the director, if the director is any good. They try to get you to change it, and if you change it, you are then considered weak. If you fight-fight-fight, they may initially suffer the sting of defeat, but then maybe they'll respect you, too."
Many of today's leading young filmmakers have also learned from the mistakes of their colleagues. Among the most celebrated cases is that of Tony Kaye, the British director who waged a protracted battle with New Line over the final cut of 1998's "American History X." After the studio had allowed star Edward Norton to recut the film then removed Kaye from the picture, the director took out advertisements in trade publications to promote his point of view. Eventually, he sued unsuccessfully to have his name removed from the film's credits. Kaye has not directed a studio feature since then.
Today, he is making commercials and reflecting ruefully on the past.
"There were a lot of problems that needed to be sorted out," Kaye says. "I really wanted to make a film that was better than 'Citizen Kane,' but I had no idea when I was going to finish (the editing), and that was very scary to New Line. With the amount of film I'd shot and the amount of improvisation, I needed literally a further year of calm distance to sort it out -- and I am positive it would have been a great film. But I didn't have the skill set or the track record or the protection to sort that out.
"I had come to Hollywood as this naive English person," he adds. "I had read all those stories about Coppola and Orson Welles and Erich von Stroheim, and in my own way, I guess I was trying to create a character so that when I died, someone would make a film about me. But a lot of these characters were over-romanticized. Within the internal organ of the machine, they were playing the game like everyone else -- and playing it bloody damn well.
"What I did was stupid, idiotic; I was naive," Kaye continues. "But the time now has come for me to accept that if you want to make films for a large audience, you have to collaborate with other people -- and you have to toe the line."
That concept is recognized by nearly all of today's directors. But helmers who "play the game" realize that they do so at a price.
"I don't know a single filmmaker who, given the choice, would choose a studio over an independent artistically," director Rod Lurie says. "I'll take several million less in budget any day to be left alone and be able to make the movie I want to make."
For helmer Iain Softley, working with the studios is a complicated matter that he sees as anything but black and white.
"It is difficult to make a film in opposition to the studios today," he says. "But it is a contract that one has to enter into with one's eyes open. The biggest thing that happens is almost self-censorship: You are in an environment where everybody is in the same place culturally, wanting to make films that are as successful as possible at the boxoffice; you realize that if you want your film to 'open,' you have already committed your complicity to that."
Before the release last year of his film "K-PAX," Softley says, "there was a concern that people would see the film as too downbeat and depressing. There were certain discussions about whether the last scene, when we see (star) Kevin Spacey, would survive the cut."
Afraid that the wrong ending would hurt the film's commercial prospects, Softley shot an alternative conclusion that he did not use. He was given a choice by the studio; it was not imposed on him, but he was intensely aware of the "requirements" of a major film.
When Lurie went from directing the 2000 independent production "The Contender" to the star-driven 2001 vehicle "The Last Castle," he was intrigued by the new world he had entered. When the offer to shoot "Castle" came about, Lurie says, "it was exciting. I thought I'd be more independent than I was -- I would not have any of the monetary holdbacks I'd had. But naturally, (the studios are) very cautious; they have an investment to protect. I (went) to Nashville to film the movie with a very specific artistic vision; that vision was gone in three days.
"I had originally intended to shoot a very 'Platoon'-style movie out there with the prisoners," he adds. "We started to shoot the exterior scenes -- I shot them with 45-degree shutters, took out the 85 filter -- it was all handheld. And I got a phone call pretty quickly saying there was nervousness that I was putting an indie flair into something that was not intended to be (an independent film)."
Lurie says the film's producer, Robert Lawrence, "has a very strong commercial sense, and he pretty much told me, 'What you are doing is great if you want to go the independent (way); otherwise, we have to film this more classically.' We scrapped the first couple of days, and I went to a more classical style."
But Lurie defends those changes.
"These guys have put a lot of money in it; they have a right to protect their investment," he says. "(DreamWorks executive) Walter Parkes really knows how to make a cocktail; he knows how to make a commercially successful film. So it would be very arrogant of me to simply be dismissive."
Director David O. Russell ("Three Kings") also embraces the studios -- but only when working with an executive he respects, such as Warners president of production Lorenzo di Bonaventura.
"My personal perspective is that you have to look at yourself as being partners on these movies," Russell says. "There is a cha-cha-cha that goes on. The cha-cha-cha is like, they have this draconian script department at Warner Bros. They are very unbending; they say, 'The script is too long; you have to cut 20 pages out of it.' And you'll say, 'It's paced very fast.' You end up with two scripts: the secret script and the official, Warners script. On the first day of shooting, you say, 'Here's the dialogue we took out, and we're putting it back in.'
"What happens is, you play this game," he adds. "We said, 'It's an 80-day schedule,' and they said, 'Yeah, but you have to do it in 68 days.' We said, 'We can't.' So -- they knew we'd be 80 days, and it turned out to be 78 days. It's this demoralizing process."
In the near future, Russell says he plans to stick to lower-budgeted films on which he does not have to play the studio game. But his independence is limited: Russell's next project, "The Existential Detective," will be financed jointly by Warners and Miramax.
That absence of real independence is fueling most directors' willingness to compromise.
"They either have to embrace the studio system or race out of town at night," UTA agent Howard Cohen quips.
How happy filmmakers are with that situation is a whole other question.
"Things have changed," director James Gray ("The Yards") says. "They've changed because there is too much money in it. There is no more audience really for contemplative movies, and there is a cultural shift -- there is no Vietnam War to radicalize us."
For those unwilling to compromise, he adds, "it's grim."
Says Lurie: "Too many people have made a couple of good movies and burned out. The truth is, studios know how to make a successful film, one that works at the boxoffice. Nobody believes in the maverick anymore."