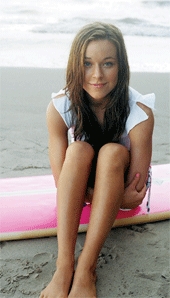 Tina Majorino has been back in the acting game for only a couple of years, but she's already managed to nab a trifecta of roles that inspire rabid, drooling fandom--and we mean that as a compliment. After all, she's our youngest "actor we love," by far.
The first thing to catch our attention was her winning turn as nerdy Glamour Shots photographer Deb in 2004's cult classic Napoleon Dynamite. As spazzy Napoleon's soft-spoken dream girl, Majorino injected the film with gentle soul while simultaneously rocking an antennalike side ponytail. We were even more thrilled when she popped up in a recurring role as Cindy "Mac" Mackenzie, computer-geek sidekick to Kristen Bell's acerbic teen detective on Veronica Mars; Majorino's presence made one of our favorite shows even cooler. Mac has emerged as a major fan favorite on the show, and with good reason: There's an endearing vulnerability to Majorino's performance that brings out the character's humanity in a way we can't help but relate to. And finally, we adore her appearances on HBO's Big Love, in which she plays outspoken young Mormon Heather Tuttle. In a show that boasts an abundance of complex characters, Majorino still manages to be a standout; her scenes opposite Amanda Seyfried, who plays a member of the series' polygamist family, crackle with chemistry and true-blue teen angst.
All three of these characters are outsiders, in a way, but Majorino never plays them with a wink. She's always able to locate the heart of a scene--whether it's Mac encountering her birth mother or Deb batting the tetherball around with Napoleon--and convey it in a way that feels unquestionably genuine. Awkwardness, yearning, and heartbreak have all crossed her beautifully expressive eyes in the subtlest of ways, telling us everything we need to know.
Big Love, Veronica Mars, and Napoleon Dynamite all have fiercely devoted fan bases, and Majorino enjoys hearing from them. One of her favorite Big Love comments came via a fan who hails from Utah, where the show is set. "She said that she was surprised that somebody from L.A. could so truthfully portray somebody from a small town in Utah," remembers Majorino. "That was probably one of the biggest compliments I've ever gotten from anyone."
The actor, who has lived in L.A. her whole life, started singing and dancing when she was about 2, then progressed into commercials, TV, and film. Even when she was a child star, her performances showed remarkable perception and precision; there's a luminous realism to her work in such films as Corrina, Corrina; When a Man Loves a Woman; and yes, even that soggy epic Waterworld that actors twice her age would kill for. Still, Majorino says achieving success at such a young age didn't affect her that much. "My parents were really good about keeping me grounded and making sure I had a life outside of working," she says. "Nobody in my family acts or is involved in the business at all, so it makes it a lot easier when you come home and nobody really talks about it."
Majorino's last project as a child actor was 1999's lavish TV-movie version of Alice in Wonderland, in which she played the title role; after that, she quit the biz for a while. "I was really tired, and I wanted to spend time with my family and my friends and go to school," she recalls. "And I had kind of lost my passion for it. I'm the type of person that, if I'm not into it 100%, then I kind of don't want to be involved in it. I don't feel like it's fair for other people to work with somebody who's not all there, [who's] not really, truly wanting to be doing it. I think that's the best decision I've ever made for myself, because it gave me a chance to get to know myself as a person, and I think that can always add to your performance."
Majorino's break lasted for about five years; at 18, she started to miss acting. She decided to give it another try and signed with agent Abby Bluestone at Innovative Artists. "[Napoleon Dynamite] was the very first thing she sent me," remembers Majorino. "She's like, 'I don't know if you're really gonna want to do this, there's no money, you're not going to get paid anything.' I read the script, and I was like, 'I don't even care. The movie is awesome, and I just want to go in and audition.' The part was so interesting and funny, and I had never gotten an opportunity to do a comedy before. I was like, 'Well, I might as well take this opportunity, where everyone's kind of drawing a blank on me because I've been gone for five years, to just try it and see if it works.'"
Needless to say, it did, and the actor, now 21, hasn't slowed down since. She's set to return to both Veronica Mars and Big Love next season, and she's also singing in a local band, The AM Project, and taking on roles in film projects, such as the upcoming Germs biopic What We Do Is Secret.
Despite her recent success, Majorino remembers getting less-than-encouraging feedback when she decided to get back into acting. Thankfully, in addition to her talent, she possesses a can-do attitude that Mac, Heather, and Deb would be proud of. "Everyone's like, 'Oh it's not gonna work out--you're gonna be plagued by the child-star thing,'" she remembers. "I never really bought into any of that...and I just told myself, 'Well, you worked your ass off before and you made it happen. Just do it again.'"