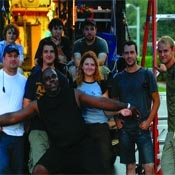 Though it's still officially winter, the time to plan your summer is fast approaching. Many performers use the warmer months to sharpen their skills by interning at seasonal theatres. But if you don't land an acting internship, that doesn't mean you need to spend the summer watching reruns in your sweltering apartment. Consider an offstage internship instead. Working in stage management, theatre administration, scenic design, casting, or on a movie set will broaden your understanding of the production process and help you grow as a performer. For internship options you may not have thought of, Back Stage spoke with the administrators of two popular programs, plus a casting director who works with interns and an actor who spent her summer behind the scenes on a film set.
FAIR Chances
What benefits can an actor derive from a nonacting internship? "It helps to have a rounded idea of what it takes to be a theatre professional at this level," says Kimiko Shimoda, director of the FAIR program at the Oregon Shakespeare Festival in Ashland. "It's designed to have a collaborative exchange between experienced professionals and the future leaders of the field."
FAIR stands for fellowships, assistantships, internships, and residencies. OSF's fellowships are for artists of color, as part of the theatre's commitment to diversity. Assistantships are awarded to MFA graduates, recent B.A. and BFA grads, and college seniors. Internships -- offering hands-on training in arts management, production, and all artistic areas (except directing) -- are available to those who have completed two years at a college, junior college, or vocational school or have equivalent experience, and they last for two to three months. Residencies are for MFA graduates in dramaturgy, and application is by invitation only.
"I think that we offer a unique experience because we're one of the largest rotating repertory theatres," Shimoda says. "It's rare for people to be able to get that exposure. We produce 11 shows over 10 months of the year. I also always encourage actors to look at working on the administrative side, because a lot of them want to form their own companies or work on their own projects. So to have skills in education, development, and marketing is always useful." Unlike most, OSF's season runs from February through October, and the theatre plans it a year in advance. The deadline for applying to the FAIR program for 2010 is June 1, 2009. For more information, go to www.orshakes.org.
"We're really looking for people who are a good fit in terms of our projects and really self-directed and motivated," Shimoda says. "It's a very large organization, and we do our best through the FAIR experience to give people exposure outside of just their area. We're looking for people who are passionate and curious about all aspects of the business." She adds, "A huge thing is generosity. We have guest directors and guest artists who come from all over the country. We need people who can work with a variety of personalities, who can be generous and flexible in terms of their work here."
Steppen' Up
Another prominent regional theatre with an extensive training program is Chicago's Steppenwolf Theatre Company. "Our program is under the umbrella of the Professional Leadership program, and it has three main components," says Megan Shuchman, the program's administrator. "Our internship program, which is a summer program three months in length, is mostly for current undergraduates, but anyone under the age of 18 is able to apply. It's unpaid. There are positions in 18 departments. The apprenticeship program is a nine-month training program, which is an extension of the internship program, from September to May. It pays minimum wage. Then there is the African-American fellowship, which is a two-year program with emphasis on development, fundraising, marketing and publicity, and theatre management."
In addition to working with company members, interns and apprentices attend seminars on career planning, networking, and résumé writing, as well as sessions in which Steppenwolf directors and designers discuss their areas of expertise. "We also try to provide outside professional development opportunities to network both with peers and other Chicago theatre professionals," Shuchman says.
"We have positions in almost all aspects of our administrative and production departments," she adds. "So that's anywhere from our development and marketing department to theatre management, and we also have positions in all of our production capacities. Similarly for administrative. We also have three different artistic interns: in literary, casting, and one who works under our associate artistic director. We have about 18 interns or apprentices at a time."
Shuchman emphasizes that these positions are competitive and that applicants should be clear about their goals: "If someone as an actor is interested in branching because they want to find out more about the administrative or production end, that's wonderful. It's just that for some positions, they may not be able to be a competitive candidate, because -- especially in stage management, scenic carpentry -- they need to have at least some level of technical or trade experience in order to be competitive for the position." Shuchman's advice to applicants is to pinpoint "why this particular experience would really serve them: what they're hoping to get out of it, how they feel it can further their career, and, on the other end, how their experiences apply to what they'd be doing here. It certainly helps anyone applying to the program that they know Steppenwolf and its work and aesthetic and that they're able to speak to why Steppenwolf seems like a place they would be interested in learning from. You don't have to be able to say, 'I've followed Gary Sinise's career from the beginning and I really love him.' That's not what's really important, but to be able to say, 'Oh, how interesting that this is the kind of work you've been producing, and this is why I feel like I would be interested in knowing more about a company like this.' "
You can download an application at www.steppenwolf.org. The deadline for this year's internships and fellowships was Feb. 16, but the apprenticeship deadline is March 15.
The Other Side of the Table
Actors might also consider an internship at a casting office. "We cast everything here from Broadway to on-camera and film and commercials," says Carrie Rossen, a casting director with Telsey + Company, one of the busiest casting offices in New York. "So the interns are exposed to all these arenas. If they want to gravitate towards a specific department, then that's very doable. The specific duties include running our front desk, filing agents' submissions, logging for on-camera sessions, and sitting in on auditions." The last chore can be especially valuable as a way of learning what CDs respond to and what gets a callback. Interns can also discover what makes for an effective headshot and résumé. "One of the really important duties that interns have here is to file the submissions," Rossen says. "They're seeing the résumés of the people who are currently in our shows and the people who are auditioning. They're seeing the feedback those people are getting from the casting director. It's a really valuable tool to see what is successful, even down to the résumé: What is it about the résumé that casting directors are really looking for?
"We have a particular filing system in our office. We have a really strict rule that nothing gets thrown out. I think as an actor, when people come in here and see how important it is for us to make sure we're seeing everything that comes in for every project, that's a really refreshing thing for them to see -- that nothing's ever discarded without us looking over everything and making sure we're giving every single person a chance."
Rossen, who hires interns for the office, will see anywhere from five to 50 prospective interns per week when slots are available. Telsey + Company generally employs eight to 15 interns at a time, and up to 20 in the summer, when it's particularly busy. An intern's tenure is usually three months, and most work full time for a small stipend, which they receive at the end of the internship.
A good work ethic is a requirement, Rossen says, plus "an ability to handle a lot of responsibility in a fast-paced office, good multitasking skills, and definitely personality, because our office really thrives on a collective diligence. It's important that anyone associated with our office kind of embodies a really positive, fun-loving disposition, which I would say makes us, as an office, an energetic and effective team."
What's the most valuable thing an actor can take away from a casting internship? "Being exposed to a casting office and seeing how things really work," Rossen says. "The trajectory of the process, from the submission to the prescreen to the callbacks to seeing the show. Seeing the whole process and how it really happens and how hard everybody works to make it happen. It can be really encouraging, I think."
Behind the Camera
"I learned a lot of lingo which I didn't know before," says actor Alison Flannery of her 2007 summer internship on the set of Birds of America, a feature film starring Matthew Perry and Hilary Swank. Flannery learned of the position from a fellow actor who found a posting on Craigslist.
"I had been an extra before," she says. "You don't see anything until they're ready for you, and when they're done with you, you leave. So you only see the part where they're filming you. But as an intern on the production side, I got to see what everyone did before and after the camera was rolling—how they set things up, what everyone was called, what different jobs were, like the gaffers, the electricians. I didn't really get what they all did until the internship. So I got to be a lot more well-rounded, I guess you could say. As an actress, now if I got hired to go on a film set, I'd be a lot more prepared, because I understand a lot more of what's going on. It wouldn't be just showing up and spitting out my lines. I understand the whole process, so I'd feel more comfortable."
But Flannery gained more than experience. She got a crew credit and a job on another film the following summer as a full-fledged production assistant. "I got paid and everything," she says.
The one essential rule for succeeding as a production intern, Flannery says, is "to be positive and willing to learn and do anything. Some interns who didn't last were the ones I saw whining and complaining and didn't want to do the job. You have to show them that you're willing to work hard, that you're dedicated, and be on time, of course, but also be ready and willing to do things—not just wait around until you're asked to do something but step up and say, 'What can I do? How can I help?' Those are the people that get hired again."
Asked if her stint behind the camera was worth it, Flannery replies, "It was six weeks of 14-hour days without any money. So it was hard, but it led to another job. So definitely, yes."