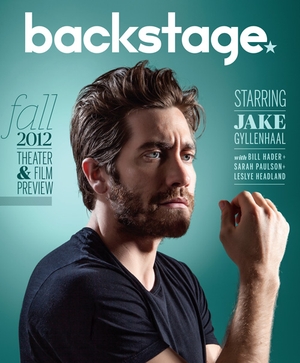 In this week's Backstage cover story, Jake Gyllenhaal talks about strapping on a bulletproof vest and going on ride-alongs with cops in L.A.'s South Central for five months in preparation for his new movie "End of Watch."
"We knew that in order for that movie to be successful, storywise, we had to become police officers," Gyllenhaal says. "In that world, it was life and death every day for real. Michael [Peña, his co-star] and I were both in vests, in situations that were real."
In addition to "End of Watch," Gyllenhaal is also making his American stage debut Off-Broadway in Nick Payne's "If There Is I Haven't Found It Yet," fulfilling a promise he made to himself a decade ago.
For more from Gyllenhaal, plus writer-director Leslye Headland on her smash hit comedy "Bachelorette" and conversations with Emmy nominees Sarah Paulson, Bill Hader, and more, pick up a copy of our newly redesigned issue on newsstands Thursday. And check back for more stories at Backstage.com throughout the week.
Read this week's cover story about Jake Gyllenhaal online at Backstage.com.