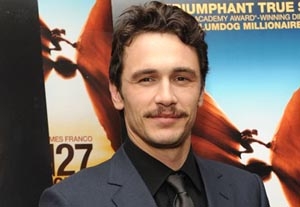 James Franco isn't afraid if to bomb as Oscar host next year.
"I'm happy to take the criticism. Even if it's 'The Worst Oscars Ever,' I don't care. It's one night of the year," Franco, who will emcee the show alongside Anne Hathaway, tells Entertainment Weekly.
He doesn't expect to do poorly: "I'm front and center, but … I feel confident."
Franco said he was "very, very surprised" when Oscar producer Bruce Cohen, with whom he worked on Milk, asked him to host.
"My initial reaction was 'No,'" Franco explains. "Then I thought about it and I thought, well, why not? Because I'll look bad? Well, I don't care."
Still, Franco's handlers urged him to turn the opportunity down.
"When we finally met and discussed it in person, all my representatives were saying, 'No! Of course not!'" Franco says. "So that always sparks something in me. So I said, 'Yes, of course!' Because that reaction that they have is based on conventional wisdom of what makes a good career. And that can be boring — really boring."
The Hollywood Reporter