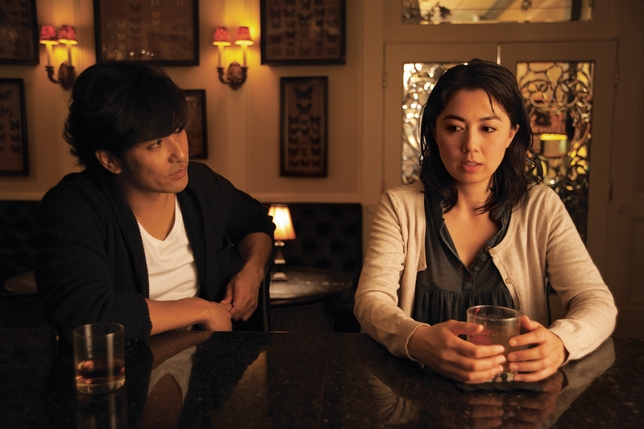 A film about a mystery novelist and a Japanese man who vanishes from a San Francisco hospital won the top narrative prize at the Los Angeles Film Festival Thursday.
"Man from Reno" stars Osaka-born actor Ayako Fujitani as Aki Akahori, a crime writer who takes a breather from her press tour and ends up mixed up with Akira Suzuki—played by Kazuki Kitamura, who hails from the same Japanese city as his co-star—a mysterious stranger from Reno who's staying at the same hotel in San Francisco. The film, directed by Dave Boyle ("White on Rice"), uses a mix of English and subtitled Japanese.
"Stray Dog" took the Best Documentary Feature award. The first documentary from director Debra Granik ("Winter's Bone") followed a Vietnam War veteran biker and his struggle for place in America.
Meanwhile, the festival's audience picked "Young Kieslowski," directed by Kerem Sanga, in the narrative category, and "Meet the Patels," directed by Geeta V. Patel and Ravi V. Patel, took the Audience Award for Best Documentary Feature.
The festival's inaugural L.A. Muse Award, which like the other category winners carries a $5,000 prize, went to the aptly named "Los Ángeles," which follows a young man from rural Oaxaca through his "perilous" journey across the border.
Shorts winners received a $1,500 cash prize.
"Huge thanks to our wonderful juries, whose enthusiasm and diligence was remarkable," David Ansen, the festival's artistic director, said in a statement. "There were so many outstanding movies in the competition this year, which made the jurors' job difficult. Congratulations to the winners—and to all the filmmakers who helped make the Festival a rousing success."
The narrative jury for the 20th edition of the festival consisted of director Destin Daniel Cretton, producer Stuart Cornfeld, and film critic Ella Taylor. The documentary jury was comprised of editor Lynzee Klingman, Spirit Award-winning director Margaret Brown and film critic and author Justin Chang.
The LA Muse jury includes award-winning composer/singer-songwriter Kathryn Bostic, writer/director/producer Maryam Keshavarz, Nicole Bernard, of Fox Audience Strategy, and director Kevin Bray.
Here's the full list award recepients:
Best Narrative Feature
"Man From Reno," directed by Dave Boyle
Best Documentary Feature
"Stray Dog," directed by Debra Granik
Honorable Mention (Best Documentary Feature)
"Walking Under Water," directed by Eliza Kubarska
L.A. Muse Award
"Los Ángeles," directed by Damian John Harper
Best Performance in the Narrative Competition
The ensemble cast of "Recommended by Enrique," directed by Rania Attieh and Daniel García
Audience Award for Best Narrative Feature
"The Young Kieslowski," directed by Kerem Sanga
Audience Award for Best Documentary Feature
"Meet the Patels," directed by Geeta V. Patel and Ravi V. Patel
Audience Award for Best International Feature
"Someone You Love," directed by Pernille Fischer Christensen
Best Narrative Short Film
"The Runaway," directed by Jean-Bernard Marlin
Best Documentary Short Film
"The Queen," directed by Manuel Abramovich
Best Animated/Experimental Ahort Film
"Butter Lamp," directed by Hu Wei
Audience Award for Best Short Film
"The Gunfighter," directed by Eric Kissack
Audience Award for Best Music Video
"Turn Down For What: Lil Jon and DJ Snake," directed by Daniels