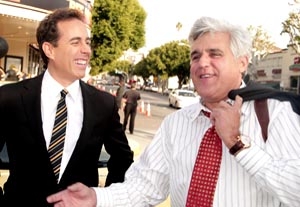 The first guest on NBC's "The Jay Leno Show" will be… Jerry Seinfeld.
An NBC spokesman confirmed that Seinfeld will appear on the premiere of "Jay Leno" Sept. 14.
He is expected to sit down for a chat with Leno as well as do standup.
Seinfend, who has appeared on "The Tonight Show with Jay Leno" a total of six times, has always been a marquee draw for late-night talk shows.
 "The Tonight Show" featuring the cast of "Seinfeld" the night of the series' finale in 1998 drew 15 million viewers, the show's third largest audience ever.
This time, Seinfeld is expected to promote his concert at Ceasar's Palace Dec. 26 and 27 as well as a "Seinfeld"-themed story arc on the upcoming season of Larry David's HBO comedy "Curb Your Enthusiasm," which premieres Sept. 20.
Additionally, Seinfeld has a reality series for NBC, "The Marriage Ref," slated for midseason.
It is not clear yet if Seinfeld would participate in any of the new segments on the show. With its background as an avid car collector, Seinfeld might be tempted to take a spin on the show's track for "Green Car Challenge," where celebrities will race alternative-fuel vehicles.
– Nielsen Business Media