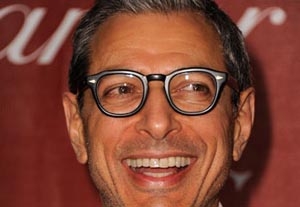 It may have taken nearly three seasons, but Rachel's (Lea Michele) gay dads will finally make an appearance on Fox's
Glee
.
Musically inclined actors Jeff Goldblum and Broadway veteran Brian Stokes Mitchell have booked the plumb roles, "The Hollywood Reporter" has confirmed. The actors will first appear in the Feb. 14 Valentine's Day episode, titled "Heart," as first reported by TV Line.
"Glee" co-creator Ryan Murphy told THR in June that he was "really interested" in seeing the two characters, who have been referenced countless times but never seen on screen.
"I'm really interested in seeing Rachel's gay dads who we've never met," he said at the time. "I've said that I don't want to do that. But maybe now is the time to do it."
THR polled the cast in February, with the top candidates ranging from Taye Diggs, Nathan Lane and Hugh Jackman. Casting for the roles began in December.
Goldblum, whose credits include "The Fly," "Jurassic Park" and "Law & Order": "Criminal Intent," has a roster of Broadway credits including "The Pillowman," "Two Gentlemen of Verona" and "The Exonerated" and is a an accomplished jazz pianist.
Stokes Mitchell, meanwhile, is a Tony winner for his performance on Broadway's "Kiss Me, Kate," and has been nominated for three other Tonys for his performances in "Man of La Mancha," "King Hedley II"  and "Ragtime." His small-screen work includes "The Fresh Prince of Bel-Air," "Frasier" and "Ugly Betty."
Both actors are slated to sing in the episode. They join a season which so far has featured a slew of guest stars in parental roles as McKinley's seniors -- including Rachel, Finn (Cory Monteith), Mike (Harry Shum Jr.) and Kurt (Chris Colfer) -- head toward graduation.
What do you think of the castings? "Glee" returns with its Michael Jackson tribute episode on Jan. 31 at 8 p.m.
– The Hollywood Reporter