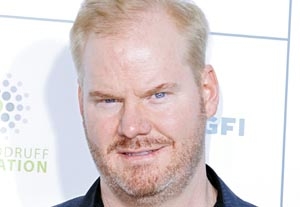 Citing comedian Louis C.K. as his inspiration, Jim Gaffigan announced early this morning that he will self-distribute his new stand-up comedy special, "Jim Gaffigan: Mr. Universe," as an exclusive digital download on his
website
.
Gaffigan will tape his one-hour special on Saturday, Feb. 25 in Washington, D.C., and plans to release it online in April. The show will be sold for five dollars per download on Gaffigan's website. The comic promises to donate one dollar from each sale to The Bob Woodruff Foundation, a charity dedicated to serving injured veterans and their families.
"Inspired by the brilliant Louis CK, I have decided to debut my all-new hour stand-up special on my website," Gaffigan wrote on
WhoSay.com
. "I know I am taking a risk here. People I respect have advised me to take the safer, more traditional route with the premiere of the special. However, I am incredibly motivated by the courage of Louie to offer his fans direct access for a low price. Buyers of my special can be assured that their money will go directly to feeding and raising my four children instead of a giant corporation."
In December, C.K. offered his latest stand-up film, "Live at the Beacon Theater," for purchase as an unprotected download on his website for five dollars. He bypassed traditional theatrical, DVD, or television distribution, forgoing any upfront payment or funding in exchange for complete creative control. C.K. earned more than $1 million in a little over one week after making the video available and donated a large portion of his profits to various charities.
With Gaffigan, C.K.'s DIY experiment has suddenly become a business model. Both comics are speaking directly to their fans as individual artists rather than part of a network or studio's publicity machine, making their audience feel like participants in the process.
"I think we can safely say that the experiment really worked," C.K. wrote on
his website
in December, after the video had been available for four days. "If anybody stole it, it wasn't many of you. Pretty much everybody bought it... I'm really glad I put this out here this way and I'll certainly do it again. If the trend continues with sales on this video, my goal is that I can reach the point where when I sell anything, be it videos, CDs or tickets to my tours, I'll do it here and I'll continue to follow the model of keeping my price as far down as possible, not overmarketing to you, keeping as few people between you and me as possible in the transaction."
Gaffigan is a veteran comedian who many viewers will recognize from his roles on television ("My Boys," "That '70s Show," "Law & Order") and film ("Away We Go," "It's Kind of a Funny Story"). But he does not currently have the kind of buzz surrounding C.K., who has received acclaim not only for his stand-up but also for the first two seasons of his FX series "Louie." Gaffigan's gamble is whether or not a lesser-known comic can successfully sway enough fans to show him the money.
"If no one buys the special or if lots of people steal it then I suppose I will lose a lot of money and have egg on my face," Gaffigan wrote. "But then again I have four kids so I am always losing money and usually have egg or some kind of food on my face so it might just feel normal."