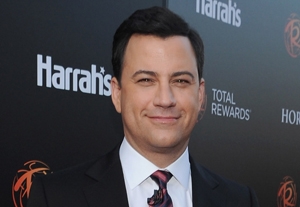 Jimmy Kimmel is jumping from late night to primetime.
The comedian and host of ABC's "Jimmy Kimmel Live" will host the 64th Primetime Emmy Awards, set for September 23rd at the Nokia Theater in Los Angeles. He takes over the spot from Jane Lynch, who hosted last year.
"I hope to be able to do for the Emmys this year what Eddie Murphy did for the Oscars," Kimmel joked in a statement, giving a nod to the debacle in which Murphy pulled out of hosting this year's Oscars after Brett Ratner, the producer that had selected him, left the show after making a homophobic remark that was caught on tape.
Don Mischner will exec produce the Emmys, making it his 12th time in the role.
Kimmel is no stranger to award shows, having hosted the ESPYs, American Music Awards and ABC's After-Oscar special.
- The Hollywood Reporter