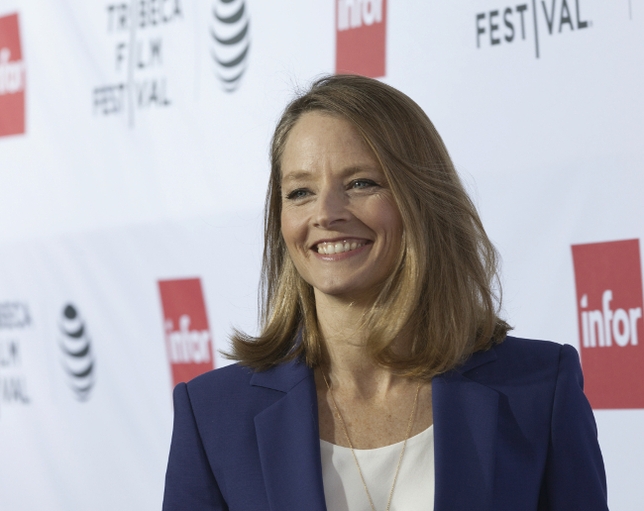 The 15th annual Tribeca Film Festival increased its event slate dramatically this year, featuring more immersive performance experiences, filmmaker interviews, and conversations with some of film's most notable actors, including Tom Hanks, Jodie Foster, and Austin Pendleton.
During a chat with Tony-winning theater and film director Julie Taymor ("The Lion King," "Frida") on April 20, Foster revealed her first audition was at 3 years old for Coppertone sunscreen. She took her shirt off in the audition room, "showed all her muscles," and told the casting directors her name was Alexander—she got the part. The Oscar winner also discussed her role in "Taxi Driver," which celebrated its 40th anniversary this year, before Taymor transitioned into Foster's directing career. Her comparatively looser approach to television and episodes of "House of Cards" and "Orange Is the New Black," as opposed to film, where "everything is meaningful," prompted questions about her new thriller, "Money Monster."
"Acting is a great film school," Foster said about directing without any formal training. "It's interesting now, directing a larger feature [I've noticed] women have a different leadership style," she noted before adding that she and Taymor were both "sick of the woman [director conversation]," and wished equality would render it obsolete. "I think people still see, for whatever reason—I don't think it's a plot—but I think they still see women as a risk and I'm not sure why," Foster said.
Different challenges faced the directors of "Starring Austin Pendleton," a 20-minute documentary homage to the renowned character actor who began his career in the late '60s and has been featured in everything from "Tales From the Crypt" to "Fiddler on the Roof."
Best known for his role as a stuttering lawyer in "My Cousin Vinny," Pendleton had to fight a debilitating stutter in real life, which made him "a more interesting actor," he noted in the panel discussion after the film's premiere. The doc peeks into his classes at the HB Studio and features interviews from Meryl Streep, Ethan Hawke, Natalie Portman, and fellow character actor Wallace Shawn about why they admire the eccentric talent.
Getting interviews with A-listers was the easiest part, said co-director Gene Gallerano before the screening on April 21. "We got responses the next morning [because of] the love, trust, and respect there is for Austin," he said.
Political commentator John Oliver also interviewed Oscar winner Hanks as part of TFF's Storyteller Series. When an actor and audience member asked Hanks what he did to keep himself going through the tough times, he recommended patience and perseverance.
"[There are] those who can persevere and artificially produce the wherewithal to continue for another day and those who have met so much rejection that they can't take it anymore and they walk away," he explained. "It's tricky. It's hard. The odds are stacked against [actors] in every conceivable way, but if you can somehow manage to keep creative—you can post anything you want to anywhere in the world—and if it's good, someone is going to be looking."
Inspired by this post? Check out our film audition listings!