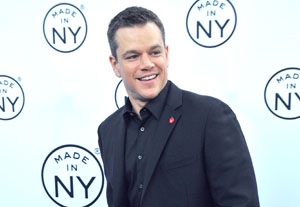 New York City Mayor Michael R. Bloomberg and Katherine Oliver, commissioner of the Mayor's Office of Media & Entertainment, honored six individuals and organizations at the sixth annual "Made in NY" Awards on Monday. The honorees have made significant contributions to New York's new-media and entertainment businesses.
"The entertainment industry in this city represents over 100,000 jobs and brings in almost $5 billion annually to the city's economy," Bloomberg said at the Gracie Mansion ceremony. In 2010, more than 200 films and 30 television series were shot in the city, the mayor and Oliver noted. Bloomberg added, "New York City is the entertainment capital of the world, the talent capital of the world, and the media capital of the world. And tonight we honor some of those who help make that so."
This year's recipients were actors John Leguizamo and Matt Damon, the social media website Foursquare, MoviePass CEO Stacy Spikes, the production firm Smuggler, and Lauren Zalaznick, chairman of NBC Universal Entertainment & Digital Networks and Integrated Media. The first "Made in NY" Award for Lifetime Achievement was given posthumously to Sidney Lumet. The filmmaker's daughter, screenwriter Jenny Lumet, accepted the award.
After receiving his award, Leguizamo, who is currently starring on Broadway in his one-man show "Ghetto Klown," spoke about growing up in Queens and becoming an actor. Despite having roles on television shows and in feature films, he called New York theater the place "where I could be myself." Damon shared a similar sentiment for the city's entertainment opportunities. He described driving from his native Massachusetts with friend Ben Affleck to New York for auditions. "Our dream was...to actually someday get a movie that shot in New York," he recalled. Leguizamo and Damon are raising their families in the city, and both said they could not do it without being able to work in New York.  
The mayor also revealed the "Made in NY" Digital Hall of Fame, a digital archive of past honorees, such as Tina Fey and Edie Falco, featuring footage from productions shot in New York City over the last five years. NYC Media designed and created the Hall of Fame, which will be available online at
www.nyc
.
gov
.
With this year's Tony Awards coming up Sunday, cast members from the Broadway show "Memphis," the 2010 Tony winner for best musical, closed the ceremony with a number from the show.