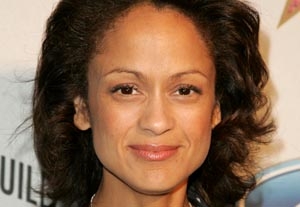 Anne-Marie Johnson may have lost the race for Screen Actors Guild president, but her old job is secure. The guild's Hollywood division board re-elected Johnson to the post of 1st vice president, SAG announced Oct. 7. Johnson, part of the hardline MembershipFirst slate, finished second to Unite for Strength candidate Ken Howard in presidential election results announced Sept. 24, but was elected to a seat on the guild's national and Hollywood boards. This will be her fourth term as 1st vice president, a role that also makes her head of the Hollywood board.
"I am honored to have been re-elected 1st vice president of the Screen Actors Guild and I hope to continue to help lead with honesty, inclusion and determination," Johnson said in a statement. She went on to seemingly address the hard-fought campaign for the presidency, saying, "I look forward to serving alongside President Ken Howard, Secretary-Treasurer Amy Aquino and the newly elected and returning SAG board members. For the union's sake, I hope we find that we have more in common with regard to the future of the Screen Actors Guild than it may appear."
Mike Hodge, who won the New York division presidency in the September voting, was elected 2nd vice president by the New York board. "I'm excited and looking forward to a year of very productive volunteering," Hodge said. "We're not out of the woods yet, but I think we can make some real progress this year."
The guild's 3rd vice president will be elected by the regional branch division at its two-day board meeting Oct. 15 and 16.