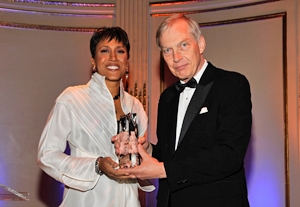 The AFTRA Foundation honored five union members on Feb. 22 at the AFTRA Media and Entertainment Excellence Awards. The ceremony, which alternates yearly between New York and Los Angeles, was held at the Plaza Hotel in Gotham. Radio host Bob Edwards, 1st vice president of the American Federation of Television and Radio Artists, emceed the event.
Edwards accepted the first award, for broadcasting, on behalf of "Good Morning America" anchor Robin Roberts, introducing a film of Roberts' career highlights that included her coverage of Hurricane Katrina and the Haiti earthquake and an interview with President Obama. In a prerecorded acceptance speech, Roberts jokingly told Edwards, "You're doing a great job hosting."
The cast of "Sesame Street" took the stage next to receive the entertainment award, introduced by Sesame Workshop CEO Gary Knell. Bob McGrath, a member of the cast since the show's 1969 debut season, accepted on behalf of his colleagues, who were assembled around him. Referencing a popular sketch from the show, McGrath told a story that illustrated the reach that "Sesame Street" has around the world—even in his own home. The actor described how he once watched his young daughter picking up discarded sheets from his typewriter and pressing them into a wastebasket. When the job was finished, she told her father, "You know what I call that, Daddy? Co-op-er-a-tion."
Telemundo news host Jorge Ramos introduced Tony Bennett, who responded to a lengthy ovation from the crowd by saying, "Thanks for making my month." Bennett then presented Latin pop star Juanes with the award for sound recording. "I feel deeply honored to be receiving this award from the legendary Tony Bennett," Juanes said.
TV correspondent Bill Geist presented his "CBS Sunday Morning" colleague Charles Osgood with the first of two lifetime achievement awards given out that evening. Poking fun at Osgood's workaholic ways, Geist said, "I'll try to keep this short. Charles has to get up for work in a few minutes." Osgood accepted with a joke about how such honors signal the beginning of a career's end. "I'd like to see this keep going for a while," he said of his career.
The evening's final honor, another lifetime achievement award, went to soul singer Sam Moore, whose friend Don Imus, the radio personality, presented him with the prize. Moore, a longtime advocate for recording artists' rights, ended the evening with a call to action, saying, "Every time your record is played, I think you should be paid," and adding later, "I'm still fighting. I'm gonna keep on fighting."