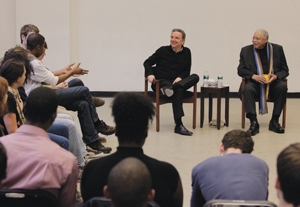 This fall the Juilliard School will welcome the inaugural class of its Master of Fine Arts in Drama program. Eight graduate acting students have been selected as the first class of the highly selective four-year conservatory training program under the guidance of James Houghton, the Richard Rodgers director of the drama division. Classes begin September 2012.

"An MFA is really a terminal degree in the acting profession," Houghton said, "so I think it's critical that the school represent that degree and provide as many opportunities for our students in the profession as possible."

The new MFA complements the four-year Bachelor of Fine Arts degree already offered by the drama division, which was founded in 1968. In addition to participating in separate advanced courses, graduate actors will regularly work side by side with the school's undergraduate students in acting, voice, movement, and more throughout their four years. Both groups focus on performance and other aspects of the business in the final year, for what the school calls a "bridge to the profession."

As an integral part of the fourth year, the Juilliard Drama Division will introduce its Professional Studio this fall at Signature Theatre Company, where Houghton is founding artistic director. The Professional Studio will bring Juilliard's undergraduate and graduate students together for professional workshops, rehearsals, and performances in Signature's new Frank Gehry-designed Pershing Square Signature Center in New York's Theater District.

"I think it's a really exciting time at the school," Houghton said. "After 45 years, we've turned a significant corner here, and for the first time we'll be able to offer both of these degrees. I think one of the most exciting pieces of the puzzle is the final year of both of those programs culminating in this bridge to the profession. The advantage of having that year to focus on transitioning into the profession, and doing that both here at the school and outside of the school at the Signature Center, is a very exciting new development."

The eight graduate students and 10 undergraduate students who have been accepted into the program this year are Paton Ashbrook, Francesca Carpanini, Lee Colston II, David Corenswet, Gwendolyn Ellis, Adam Ewer, Noah Gaynor, Patrick Graves, Jimmie Jeter, Jasminn Johnson, John Kroft, Hannes Otto, Marianne Rendon, Madeleine Rogers, Sarah Tolan-Mee, Julia Warren, Chelsea Williams, and Matthew Williams. (The school declined to specify which incoming actors are enrolled in the BFA program and which are beginning MFA training.) Eight to 10 graduate students and eight to 10 undergraduate students will be selected each year, for a total of 18 in each graduating class.

Houghton said that the introduction of an MFA acting program has been in development at Juilliard since he joined the school in 2006. The new Juilliard Drama Division Master of Fine Arts in Drama was approved by the New York State Department of Education in June 2011.

The drama division already offered a non-degree post-undergraduate diploma program. As with the MFA, diploma candidates are mixed with undergraduate students throughout their training, and Houghton said that he wanted to build off the success of that cross-pollination with the new program.

Tuition fees for Juilliard's MFA program are equivalent with the costs of its diploma program, Houghton said. He added that a "very high percentage" of students are eligible for scholarships. While the diploma remains an option for students who may not meet the requirements for an MFA, Houghton said that no one auditioned for the diploma track this year.

According to Houghton, the school auditioned approximately 1,400 applicants for a total of 18 combined slots in the BFA and MFA programs. He estimated that compared with last year's auditions for the diploma program, more than twice as many applicants auditioned for the new MFA program. Auditions for all three programs are held annually in New York, Chicago, and San Francisco.

"There was a significant pool of applicants that we were not reaching because we were not offering a master's degree," Houghton said. "We estimated that there were 300 to 500 candidates a year that we were not seeing, who were simply auditioning for MFA programs."

New faculty members are being hired to meet the demands of the expanded program. They will be announced on a rolling basis as the first group of MFA students advances through each year of its training.

Among the notable alumni of Juilliard's drama division are Laura Linney, Christine Baranski, Viola Davis, Kelsey Grammer, William Hurt, Kevin Kline, Patti LuPone, Mandy Patinkin, Kevin Spacey, and Robin Williams. Recent alumni include Jessica Chastain, Adam Driver, Anthony Mackie, Carrie Preston, Benjamin Walker, and Rutina Wesley.