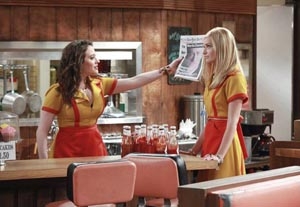 Julie Ashton is having a very busy pilot season. It's unsurprising, since she's pretty much busy all the time, as the casting director of USA's "Psych," Fox's "Bob's Burger," Disney XD's "Kickin' It," and CBS' "2 Broke Girls" as well as the occasional film project.
This week she picked up two more pilots, both CBS comedies. The first is currently titled "Partners," and it focuses on the relationship between two business partners, one straight and one gay. The other is untitled, but it hails from writer/executive producers Greg Malins and Mark Berlanti. It's also about a pair of business partners, both of whom are straight, one of whom is male, and after a health scare he realizes that he's in love with his longtime (female) friend and business associate. Both pilots are set to shoot in late March.
These projects are in addition to the other pilot she's doing: Fox's untitled Demetri Martin animated project.