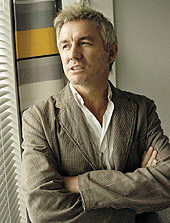 Having a conversation with Baz Luhrmann is a bit like watching one of his flamboyantly colored, rhythmically edited films--it's exhilarating. He talks quickly, leaps nimbly from topic to topic, and indeed seems to be bursting with more ideas than he can communicate. The 41-year-old Australian director has channeled this restless energy into three astonishingly energetic films. His first, Strictly Ballroom, proved he had a distinct, quirky, charmingly theatrical style. With Romeo and Juliet, he moved on to more ambitious territory, revamping the best-known of Shakespeare's plays into a fast-paced visual thrill ride that made it truly modern. Next he reinvented the film musical with Moulin Rouge, a postmodern pastiche drawing from a dizzying array of influences. Now L.A. audiences will get a taste of his latest project, direct from Broadway: a stage version of the opera La Boheme, meant to reclaim Puccini for the hip young masses. It's hard to think of a better man for the job. La Boheme will run at the Ahmanson Theatre from Jan. 18 through March 7.
For Luhrmann, the piece is a return to his roots in theatre and opera. After attending Sydney's National Institute of the Dramatic Arts--breeding ground for such Aussie talents as Cate Blanchett and Geoffrey Rush--he went on to run both a theatre company and an opera company, out of which emerged the play version of Strictly Ballroom. He has also directed productions of Lake Lost (created with composer Felix Meagher) and Benjamin Britten's A Midsummer Night's Dream, which won the Edinburgh Critics' Prize.
Luhrmann's vision for La Boheme is characteristically glamorous. He sets it in 1957 Paris, filling the stage with a stylish international cast--all under age 30--and sets and costumes by his wife and longtime designer Catherine Martin, who boasts two Academy Awards for Moulin Rouge, as well as a Tony for La Boheme.
Luhrmann is also currently working with writer David Hare on a film version of the life of Alexander the Great, starring Leonardo DiCaprio and Nicole Kidman, set to begin shooting in September. He has said that his next film will mark a turn in his career toward more epic, mature work, and that his current engagement with La Boheme therefore has a deeper resonance in his life. It is his bold farewell to the frenetic energy of bohemian youth. Still, one can't help but suspect that the next phase of his career will be no less thrilling and perhaps more ambitious than ever.
Back Stage West: Tell us about the casting process for La Boheme. I hear it was quite arduous--finding a company of singer/ dancers who are not only young and glamorous-looking but also have the vocal chops to handle s opera.
Baz Luhrmann: It took a long time and a lot of work to do. There were two things--that they could sing it, first of all--and already you are down to few people in the world who can actually do it. And not only do they sing it, but they've got to be able to act it. They have to have some degree of psychological depth.
We also had this singular difference in that players can only play three times a week. They can only re-sing it three times a week. So immediately we had to triple-cast. So we had to search globally. We went from Milan to London to Paris to New York--all the basics--but then we went right into Russia. The final cast has a girl from Russia, one from China. So it was a big worldwide search. It took six months. We saw thousands.
BSW: What casting directors do you work with?
Luhrmann: I have my own team. I work with David Crooks, who has been my assistant director. We've worked in opera since we were very young. He started in Covent Garden when he was, like, 20 and he's now, like, 50 or something. And then I work with a casting agency out of New York, Bernard Telsey, who is fantastic. In film I have Ronna Kress, who I work with on most of my pictures. It's a very important relationship. It's the one that starts in the beginning and goes right through to the end.
BSW: What do you look for in actors--if you could put that in a nutshell somehow--and what do you expect from them?
Luhrmann: I am an actors' director. I've worked with actors since I was a kid. I've had two theatre companies and opera companies. And it's really simple as much as anyone will tell you. You are looking for the right actor for that role. But I do expect the actors to contribute, to persist with the material as thoroughly and absolutely as I do, to know as much about the material as I do.
When I worked with Leonardo, he came to Australia, and we worked for three weeks and then another two weeks before rehearsals even began, and he paid for it himself. Like Nicole with Moulin Rouge, we did a month of workshop before we even began actual rehearsals for filming. So I do very intense workshops. Thankfully the really talented actors actually love acting, so there's no trouble convincing them to put the time aside to really go through a thorough process. There is only process.
Ultimately with acting, you can be very helpful in sending actors down a road where they should go. You can be very useful to them in terms of research and development. But ultimately you are their audience. The only thing they can't really do is step outside of themselves and know what they are doing. If they are, they are not truly in the moment. Notwithstanding, there should be some degree of awareness. But you are at all times their treasured audience of one. And that relationship is very precious. You've got to be careful not to exploit it. To become the source of their confidence can be a good feeling. And you've got to be very careful that you are always keeping it in the forefront of your mind what is best for them.
Research Firm
BSW: Do you like actors to have already figured out things like subtext, or do you give that to them? I've heard that you like actors to be extremely specific about what they are doing.
Luhrmann: We are research crazy. We do months and months sometimes years, depending on the project. We will publish books, and they start with books and materials that we give them, and then do their own work as well.
The truth of the matter is, I've grown up in the theatre since I was a child. I've acted in movies and theatre and had theatre companies, and I still do. And as far as methods go--and there are many--they are just helpful hints. They are just helpful processes. They are not magic. It's a bit like software, in the sense that it's there to help you sort out your own creative impulses and processes. There are as many processes as there are actors. There are those who need to fool around on the set and have fun because they are distracting themselves from their fear. There are those who need to be absolutely focused and inside the character.
In the theatre it's a different process. What's really valuable for actors is to read about the history of theatre. That's number one. Don't be so naive as to not know what came before. Two, there are things that are useful. Learn to be best with your body. Learn to be best with your voice. Learn to be best with your physical self. Three, it really helps to learn how to break down a text. There is no question that if you are a good detective and you examine the language of Shakespeare, you will get inspiration for ideas provided by the text itself.
But most important then--you can listen to all sorts of outside influences--but always listen to yourself. In the end it's your instinct that is the most precious thing. And the thing that can destroy you is that you start to believe that you could be so great if you are just an empty vessel and someone else fills you, and that can become very worrying--because really it's also an act of confidence. And you are always going to be frightened. Every nutty thing that an actor does, no matter how successful they are, is based on fear. It's an internal fear and nervousness about acting itself. Am I any good? I know. I've worked with the greats. And they all still want to know: How was I?
BSW: To return to La Boheme, why set the opera in 1957 Paris? What parallels were you interested in exploring?
Luhrmann: There is a very specific reason. When we set out to do it back in 1989, it was not exactly about 'What did Puccini do onstage?' But the commission was how to make it like the experience that audiences would have had when it was first staged, not as it was. Because, you've got to understand, this was a really popular, lewd play that was based on a series of short stories, La Vie de Boheme, by Henry Murger. It was shocking, edgy, the music was considered too loud and in your face, and really really exciting. And it played to the groundlings and to the king.
So when we were going through the process of this, we realized that in 1890, if you saw guys running around with big velvet floppy hats and check pants and fluffy shirts, you'd understand they were poorly dressed, that they were bohemians, they were sort of anti-society. But this would not be clear to an audience coming to it for the first time. So the adjustment wasn't about trying to be sort of groovy, or just to make it look good. The adjustment to '57 was: This was a good social and economic match for the postwar 1840s period when the stories were first written. Bohemianism was invented in this time and place--the phrase, "rebels without causes."
It was a time about really bored young people whose parents had fought a war, and they were really bourgeois, and they were thinking, Hey, what's in this for me? What can I do? And they sort of blew off university and did these crazy things. There was a group that did nude bathing in their front lawns and drank wine from skulls--stuff that everyone does today when they are 19 or 20 to fundamentally reject the scary life of their parents. And then they go back to it, having been informed from experience. So that was one reason.
The other reason was that '57 was the year--it was '58 that inoculation for tuberculosis began. So round '57 there were still significant cases of TB, and she could have credibly died from that disease in that time.
BSW: I read that the fact that you are doing La Boheme right now has a deeper resonance with your life, in the sense that it is about moving beyond the bohemian phase of youth. I'm curious what the next phase of your career is going to look like.
Luhrmann: It's where I am now. I'm working with David Hare on a screenplay about Alexander the Great. I happen to be doing a little one-minute movie with Nicole Kidman that I am writing and shooting for Chanel No. 5--hey just to keep the foot in a bit of glamour. Then I have a series of epic works that I'm working on. As well as that, I have a slate of things that I want to do.
It's really about this middle part of my life. You know, the early part is a bit of a rehearsal--it's an examination, an exploration, it's meant to be full of possibility and imagination and energy and extremism. And it doesn't mean that you have to become boring in middle age at all. But at the age of 41, I have all these things, I've done all these things, I've run around the world 55,000 times. I was in Iran six weeks ago. I've had a lot of life experience.
The issue now becomes... well it's kind of tragic when you are still trying to be the edgy young thing, because you can't be that. You have to be true to where you are in time and place. And I think what one wants to do now is really use all of the experience to do things in a fine and resonant way. But with every piece I've ever done, I've never taken a job. We never do "jobs." It's just about what's going to make life rich and interesting, so the work is about what will make life rich and interesting, too.
Back to the Future
BSW: Will you continue to work on musicals on film?
Luhrmann: I want to do more musicals in film. I'm going to do some epic works, but I'm sort of setting up a little musicals unit, I think. I have endless pieces. I'll never do all the ones I've got written before I die, so the question becomes ... there comes a point where you are just maniacally doing so much that you lose your passion, and that would be a tragedy for me.
BSW: You once said that you never feel that you get "the whole way" with anything. You said, "If I ever did get the whole way with anything, I'd want to destroy it." I thought that was a fascinating quote, and I wanted to ask you to elaborate.
Luhrmann: How punk! How punk I must have been when I did that interview. I must have been wildly edgy. I think what I really mean is that if I really felt like I got all the way there with something, I probably didn't. If I ever feel that way, I've probably gotten to a point in my life where I am lying to myself and getting all self-satisfied. That would worry me. It would worry me if I went, like, "It's perfect."
BSW: I know you work closely with your wife, Catherine Martin, who is also your production designer. How involved are you in the design elements?
Luhrmann: I was a very visual person all my life working. I have a visual philosophy. I see the thing in my head, and I brief CM on how it should look, and then she makes it happen. And she designs it. I'm always careful about saying, "My wife's a genius," but she is extraordinarily gifted in what she does. But it isn't a traditional thing where she comes up with a set, and I move traffic around. I envisage the thing in totality, and then we evolve it, and we work very closely on it. And she contributes to other areas of the work. She'll have a view about casting, whatever. And I have a lot to say about every aspect of design, and I have ideas. I have a visual language philosophy. I start with a lot of cutups and picture books that I will hand off as a starting point.
BSW: Strictly Ballroom was your first film. Was it tough to get it made?
Luhrmann: I made it as a play first of all. And, yes, it was hard to get the financing for the very first time. It was incredibly hard. In fact, it took me a year to get done. And I found this man who owned the band AC/DC, an Australian, and he wanted to do it. And he had a big music company. He gave me a million dollars. And then I needed two. By the time I got the second million out of the government, I loved this guy, Ted Albert. And by the time we actually got it done, he died just before we began shooting. And rather miraculously, his wife stepped in and took over. It's quite a big backstage story itself.
BSW: Did you cast it from the theatre version?
Luhrmann: The girl was from my theatre company. But I had to really prove her. I had to test her 100 times. They boy was a superstar ballet dancer in the Sydney Dance Company, which is a very funky modern dance company, but he'd never done ballroom dancing or acted.
BSW: Where does your fascination with musicals come from? Is it something that your parents exposed you to?
Luhrmann: I grew up in the middle of absolutely nowhere, and we had a farm and a gas station and the cinema. So the first early movies that dad projected were musicals just because it was the early '70s. Remember Paint Your Wagon?
But also the really big influence was that we had one television station, and we got in those days what was considered very cheap television, things like Top Hat and Band Wagon, Citizen Kane. So I always had a love of that older Hollywood stuff as a child. And it stayed with me all my life. And then I got very serious, and I studied Artaud and Brecht and the greats, Peter Brook. And as far as my education goes, I was hugely educated in all forms and disciplines of theatre, but then when I was looking for a sort of way of telling the metaphor. Can you believe that Strictly Ballroom was originally created as an answer to the Cold War?
We were all very concerned about the Cold War, and how apathetic we were, and how we weren't really doing anything about it. So we took the primary story of David and Goliath, and I set it in a world I knew something about. My mother is a ballroom dance teacher. I danced, myself, as a kid. But the idea of the all-powerful Federation was a nice metaphor for artistic oppression--people telling you there is only one way to cha-cha-cha. And also, what was going on in the world, which was that you had to believe that you could believe in your own destiny, and that it might cause something of a popular revolution.
In the original production, we had sort of more Brechtian things where you know you'd hear Ronald Reagan's recordings of Semper Fi speeches and stuff--it was a bit naive and funny. But we did the play in Czechoslovakia, before the wall had come down, and what was incredible was that all the eastern bloc schools that were oppressed by Russia ran onto the stage at the end, because they certainly knew how to read a metaphor.
BSW: Any words of wisdom or bits of advice for actors?
Luhrmann: I've got one that I think is useful, because I've been on that road all my life. I've never known anything else but what I do. And what I know is that anytime you sit around waiting for someone to tell you to do it--the trick is with acting, and with directing, and storytelling in general, there is no reason at all why today you can't walk out the door, think up a story, or ring your friend who is good at telling a story, work it out on paper with a pencil, get your video camera, make it as a video, make it with a friend. I did. We did.
We were trained that way, not to wait, not to waste your time. Don't sit around by the phone going, "Oh, I just went to the audition and I'm going to wait two weeks to hear back," and then when it comes back and it's a no, you've blown off two weeks. Don't wait. Only look forward, only move forward, don't be thinking backwards, and don't be waiting for other people to tell you how to make it happen. Just do it. BSW