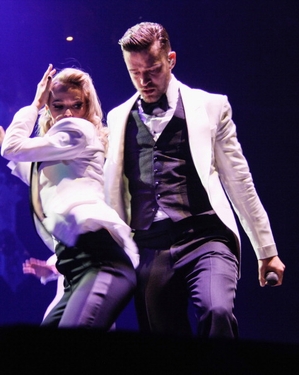 Justin Timberlake's fans have another reason to gush. The singer and sometimes actor has reached a deal with SAG-AFTRA for the dancers on his 20/20 Experience World Tour to be covered by the union's touring agreement.
SAG-AFTRA President Ken Howard called the deal to unionize Timberlake's tour dancers "wonderful."
"Justin was very open to signing the agreement and personally making sure the deal got done," Howard stated. "As a leading recording artist and actor, Justin's support for his fellow SAG-AFTRA members in unionizing his tour was a key element in concluding this agreement. I thank him for taking the lead."
It's the first time that member performers have successfully organized dancers employed on a specific tour under the SAG-AFTRA Touring Agreement, according to the union. Under the deal, performers' earnings count toward pension and health benefits eligibility. The deal also allows touring companies more budget flexibility by letting them directly negotiate with performers.
Randy Himes, SAG-AFTRA's assistant national executive director for sound recordings, gave Timberlake "the credit he richly deserves for stepping up and taking care of his elite dancer group."
"It's just another reason why Justin continues to be one of the most respected performers in the media entertainment industry," said Himes.