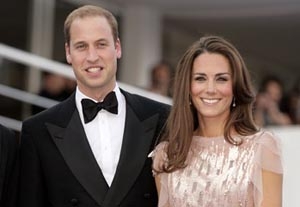 LONDON – Prince William and his bride Kate Middleton, now known as HRH The Duke of Cambridge, and HRH The Duchess of Cambridge, are on the list to attend the inaugural 'BAFTA Brits to Watch' event, to take place July 9 at the Belasco Theater, Los Angeles.
Prince William, whose many crowns include that of president of the British Academy of Film & Television Arts, will attend as part of his visit to California with his new wife.
While many eyes will be trained on what Kate wears, the Royal couple will also be on hand to support the BAFTA push which aims to highlight the depth and range of British talent currently emerging in film, television and video games.
The black tie evening event is expected to see the 42 emerging Brits, selected by an expert BAFTA panel, meet the Royal couple and mingle with the great and the good of Hollywood.
The event, with the support of the British Consulate-General in Los Angeles, aims to deepen and strengthen British and American partnerships across all areas of production, encouraging investment in U.K. talent and the U.K.'s production infrastructure.
BAFTA Chairman Tim Corrie said: "We are incredibly excited by the prospect of bringing some of the most talented emerging Brits in film, television and video games to the attention of arguably the most important people in the moving image industries today. We hope this will be only the first of a number of amazing opportunities for us to champion our very finest on-screen talent and behind-the-camera practitioners to the leading names in California."
Nigel Lythgoe, chairman of BAFTA in Los Angeles, said: "This very special event is an excellent extension of BAFTA's charitable work in Los Angeles, and around the world. Promoting the individual and collective achievements of our most promising emerging British talent is such an important part of our remit, whilst encouraging goodwill for the UK and opening further opportunities for UK-US collaboration. Being given the opportunity of meeting Hollywood's elite will provide a highly significant and beneficial moment for them, especially at such a formative stage of their careers."
Profits from the event will be used as part of the event's legacy to continue to promote and support emerging British talent in Los Angeles through future events, scholarships and mentoring schemes.
– The Hollywood Reporter