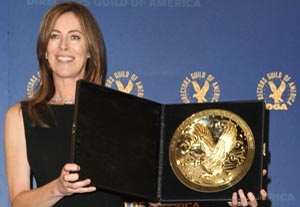 Kathryn Bigelow and her tense Iraq Warn drama "The Hurt Locker" from Summit Entertainment copped the DGA Award for best-directed feature film Saturday. The win drew cheers from a packed ballroom at the Hyatt Regency Century Plaza, where throughout the night it was clear that many were pulling for Bigelow to deliver a dramatic victory for female filmmakers.
"This is the most incredible moment of my life," Bigelow said.
Bigelow overcame competition including Fox-distributed "Avatar," directed by her ex-husband James Cameron, as well as Lee Daniels for Lionsgate's "Precious: Based on the Novel 'Push' by Sapphire," Jason Reitman for Paramount's "Up in the Air" and Quentin Tarantino for the Weinstein Co.'s "Inglourious Basterds."
The DGA's feature-film award is one of the best gauges of likely success in Oscar's best-director category. The Academy Award for directing has gone to someone other than the DGA winner only six times since the guild launched its awards in 1948, most recently in 2002 when Roman Polanski copped the Oscar for "The Pianist" and the DGA crowned Rob Marshall for "Chicago."
The DGA win for "Hurt Locker" follows its selection by the PGA Awards -- another reliable barometer of Oscar success -- as best feature film.
"This is amazing," a clearly moved Bigelow said in accepting the DGA laurels. "I am so deeply stunned and honored and proud."
She accepted the "unimaginable honor" on behalf of the "men and women in the field" in the Iraq military zone.
All of the nominated feature directors stressed their admination for one another's work in a night filled with heartfelt tributes to filmmaking greats present and past. Carl Reiner emceed the DGA Awards gala for the 22nd time, while DGA president Taylor Hackford presided over his first ceremony since taking office six months ago.
– The Hollywood Reporter