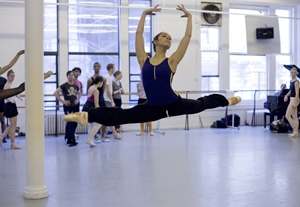 The dancers in the studio next to Carol Paumgarten's office break down beats on wooden floors, as the founder and artistic director of Steps on Broadway explains how she started her "labor of love." Paumgarten was not a dancer when she opened the Manhattan school. She had focused on skating and competitive tennis in her earlier years and started dancing in her late 20s, after having her second child.
"I went to Alvin Ailey and I was ignited," she says, referring to the esteemed New York dance academy. She "dared with trepidation" to take a modern-dance class in the Horton technique with choreographer and dancer Joyce Trisler, who had studied with Lester Horton. "I wanted to do more than just take class," Paumgarten says. "I really wanted to get immersed."
Her immersion came in December 1979, when she founded Steps on Broadway. Since then, the school has emerged as a vital part of the New York dance community. To show how far Steps has come, Paumgarten pulls out a picture, spotted with age, of the once burnt and gutted space across the street from the Upper West Side's Beacon Theatre that now houses the school, after it moved from its original location on 56th and Broadway in 1984. "Opening Steps was groundbreaking and unheard of in the trade," she says. "We were going to have an open school and have ballet coexist right next to jazz and tap. It was scary, and it was a huge investment."
Now, above the hustle and bustle of a Fairway Market, sits the world Paumgarten started. In its 30th year, her investment seems to have paid off. The school has expanded up two floors, has 10 studios, and offers about 48 classes per day with a wealth of accomplished teachers, who cater to all levels of experience, in the core dance forms of ballet, jazz, and modern, as well as new varieties like yoga, Zumba, and hip-hop.
"We started with a teeny lemonade stand of a school," Paumgarten says. "We had one ballet class, one jazz, one modern, and an ethnic class." Steps now teaches about 3,000 students a week in the adult division alone. The various skill levels are apparent with a glance into the studios: An elderly woman with frizzy white hair in a low bun stands in her leotard at the barre practicing tendus and plies, while down the hall, students in a professional-level ballet class move across the floor to live piano accompaniment. The school hosts beginners as well as members of Britain's Royal Ballet and the New York City Ballet.
"We really try to welcome all types of dancers," says Suzy Norton-DiCerto, director of group programs and assistant to the managing director. "We try to make everyone feel welcome—from the lace curtains on the windows, to the café, to cushions on the benches in the hallway, the front desk saying hi, whatever it may be."
Enduring Faculty
"There are people who have departed and gone on with their lives, and they always come back," says Paumgarten of the faculty and students. "They feel nostalgic about their original beginnings here." Of the 186 teachers on staff, eight have been with Steps since it opened. Their enduring presence is felt and serves as testimony to the school's atmosphere. "I feel that I'm treated respectfully as an artist and I'm not just an employee," says Barbara Duffy, who has been teaching tap at Steps for 20 years. "Our artistic abilities are valued here by the management, and we're paid well and taken into consideration."
Suzi Taylor, who teaches lyrical jazz, has been with the school for 21 years. Some of her students—including her former veterinarian—have been taking her classes for more than 25. "Steps has a high-quality atmosphere to it," says Taylor, who continues to teach despite being seven months pregnant and having had both hips replaced. "It's very much about the work. I like discipline. I have a great understanding of how to give dancers longevity and how to keep their technique in tune without hurting themselves. I have a student who, eight Broadway shows later, still keeps herself fit and smart by staying in class."
This will be Taylor's second "Steps baby." She and Diane Grumet, the co–artistic managing director since 1994, joke about putting a crib in the back of the studio so Taylor can continue teaching after the baby's arrival.
Michael Wright, a professional concert dancer from Dallas, has been in Steps' work-study program since February. "I feel the interest of the teachers and the community of students is helping me to create a network of people that could help me further my career," he says. Since starting at the school, Wright has had opportunities to choreograph for students and faculty. "I started work-study here and fell in love with the place and the people. While I've taken classes elsewhere, I feel this is the best place for me as a student."
Steps works to foster its dancers' success in all areas. "Our mission is to provide a place for dancers to study and train on a regular basis with the highest quality and standard of teachers we can provide for them," says Grumet. "We believe that dancers today cannot do just one thing. They have to do many."
For students ages 2 to 18, the school offers a curriculum that follows the academic calendar. Professionals can apply for the Steps Beyond division, which presents performances and educational programming. And the Steps Repertory Ensemble provides training with experienced choreographers and the chance to perform. There are also seminars, panel discussions, and workshops. "Every year we do a series on auditioning and we bring in a casting director, a manager, an agent, and an audition coach," Grumet says. "It's an opportunity for dancers to hear from professionals what it is that they're looking for."
This spring, Steps will partner with Home4Dance, a new global networking community and resource portal dedicated to dance, which will allow members to upload personal profiles. "It will include choreographers, artistic directors, studio spaces, what's happening in schools, and different performances," says Paumgarten. "It will connect all the professional dance people."
Steps already connects dancers by bringing together the different worlds of dance. Mornings are for the ballerinas—serene, focused, and serious—while the afternoons have a different pulse. "It gets really hot and wild, crazy, manic, and terrific in the afternoon," says Paumgarten. You can see the "hot and wild" work in an intermediate theater-dance class taught by Broadway vet Dana Moore ("Chicago," "A Chorus Line"). Her enthusiasm, energy, and radiance in the class of about 30 women in character shoes is apparent as she adds her own sound effects and laughter to the raised arms and thrusting hips of choreography from "Fosse."
Like the changing tempos of dancers throughout the day, Steps is looking to change its beat by adding new classes, spaces, faculty, and opportunities for dancers. "More than anything," says Grumet, "I see us continuing to evolve and create strong programs to attract dancers and encourage them to become a part of us in whatever way they wish to be."