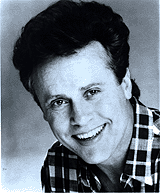 Ray Favero knows actors. After 30 years in Las Vegas, he has worked with just about every local actor, theater and agency. For the last 10 years, he's worked as a casting director, finding talent for several TV shows and movies, including: "Casino," "Stuey," "Ocean's Eleven," "Six Days, Seven Nights," "Fear and Loathing in Las Vegas," "According to Jim," and "CSI."
He is the Las Vegas casting director for the new fall TV show, "Las Vegas," which stars James Caan as a hotel surveillance operator.
"I love actors. I'd like to provide opportunities for them. We have very strong talent here," he said.
Favero strictly casts day players when they film "Las Vegas" in town. So far, they've done about a week of filming in Vegas. Most of the filming will be done in Los Angeles, he said, but they are anticipating coming back to do more shooting sometime in September. Although many of the scheduled interior casino shots were scrapped because they built a casino set in LA, they will still do some filming in Vegas, and they will need some actors.
"I have to bring them (the show's producers) the best actors I have. I look to SAG actors with legitimate resumes. I need experienced actors who have played roles, not people who have done extra work," he said.
An audition for "Las Vegas" will typically include in-person interviews and cold readings with the show's directors. In the first round of casting in Vegas, he was looking for maintenance worker types, and younger adults, people who would hang out at the pool.
The show is various scenarios of people who come to Las Vegas.
"Auditions are usually done in a production office or place of my choosing," Favero said. "I always go to the SAG franchised agencies first. Some of the ones I use include: Envy, Lenz, Classic Models, Best Agency, Donna Wahoub, McCarty Talent, and Wild Streak Talent.
So be registered with a franchised agency. That's the best way for Favero to get to know the local talent. Having representation with a legitimate, professional agent is crucial.
"I want someone who's been screened by an agent to know that they have value, standards. To be exclusive with a franchised agency is a plus. (There are no exclusivity rules in Las Vegas.) I think they're presented in a very professional manner."
Even if he auditions an actor who may not be right for a certain part, it doesn't mean he won't necessarily find a role for that person.
"I can look at people and think they might be good for the future but for the specific part, it will depend. I'm looking for good actors, people who could bring me a range of possibilities. My bottom line for "Las Vegas" is getting the very best players who will work best with the script and directors."
He understands that when you work with creative people like producers and directors, you must give them a choice. Over years of working with different directors in LA, he's learned that, once in a while, you can bring in the least likely person for a role and they will wind up getting the part. For example, one of the scripts he got called for young, muscular guy in a thong bathing suit. "I got them to cast someone who was just the opposite- a Jack Nicholson type."
Unlike many shows that Favero casts, the directors of "Las Vegas" have come to Las Vegas to audition the actors he brings to them in person. Director Michael Watkins, who is also one of the show's producers, has met with the actors personally. Favero said he is very honest with the actors.
"When you have the opportunity to read for a director directly, he will tell you what to do. He may make you do something you're not expecting to do. You have to adjust. When an actor can go out of their mind set and do what a director asks, it's very impressive. Just because a line stops in a scene, it doesn't mean the scene stops. Improvisation is crucial, the ability to take a director's suggestion," Favero said.
Most importantly, he wants actors who are natural. "Just tell me the truth. Don't act. Just be."
Favero wants the actor to walk into the room and be the character. He isn't interested their life history or to know what play they were in last year. Day players are just there to embellish the story, not move it any specific direction. Actors shouldn't make more out of a part than what it is. Most experienced actors won't do that, he said.
He said, "My obligation is to find the very best actors for the project and look beyond to the future. They might be right for a future part. I don't' feel any interview is wasted, especially on a series."