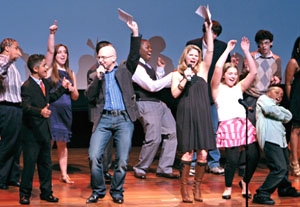 Taro Alexander carefully counted the number of paragraphs and students ahead of him. He dreaded reading aloud and was carefully timing his escape to the bathroom. The grammar-school student tried to avoid each moment he may have had to read aloud because of his debilitating stutter. A simple syllable could snag his speech and contort his face as he attempted to push through. Stammering elicited contempt from peers and advice from teachers; Alexander preferred to avoid the tribulation altogether.
There was one place Alexander felt comfortable speaking: the theater. His father was Robert Alexander, founder of the Living Stage Theater Company, a professional improvisational troupe at Arena Stage in Washington, D.C. He catered to what he called "the forgotten people," making a marriage of art and empowerment seem intuitive.
Now 37, the younger Alexander has followed a similar path, working as an actor and teacher since moving to New York nearly 20 years ago. In 2001, he formed Our Time Theater Company, a company of young performers, ages 8 to 18, who stutter. They participate free of charge and collaborate with professional performers, who sing the songs and perform the plays with the students who have written them. Frequent collaborators include Paul Rudd, Sherie Rene Scott, and Michael Cerveris.
In keeping with its mission, Our Time will release its second full length album, Listen, which has both somber and triumphant moments, on Tuesday, June 23, at the Barnes & Noble at 86th Street and Lexington Avenue. Featured on the album is an A-list group, including Broadway notables such as Cerveris, Kelli O'Hara, and cast members of "Spring Awakening," as well as top pop singers of the '70s, including Daryl Hall, John Oates, and Carly Simon (who stammered for many years). The album was recorded at Jon Bon Jovi's studio.
The Listen album, released on Scott's Sh-K-Boom Records, has songs written that have been written over the course of Our Time's eight-year existence; it was recorded over the past two years. It has received praise from both "NBC Nightly News" ("not just kid songs") and USA Today ("astonishing").
O'Hara, who performed at Our  Time's recent benefit and on Listen, says, "Any one who comes to see these kids will learn that [Our Time] is necessary," adding that "you're creating a voice for these kids who sometimes don't have one."
The album is just one of many projects for the company, which recently finished a mid-June production of two shows at the Cherry Lane Theatre: Awesome Alicious, by the company's 8- to 13-years-olds, and If You Go, written and performed by 13- to 18-year-olds. They were rehearsed for two weeks, every day after school, along with countless Saturdays throughout the school year.
Filling a Void
A common and mysterious phenomenon is the ability of some who stutter to speak or sing fluidly while performing. There are 60 million people worldwide who stutter, says Alexander, among them nuanced and colorful artists. And, according to The Stuttering Foundation of America, Bruce Willis, James Earl Jones, B.B. King, Andrew Lloyd Webber, and the late John Updike struggled with stuttering at one point in their lives.
"When I looked around the stuttering community, the one thing I didn't see was something fun, creative, and artistic for kids," says Alexander, who started the company after many years of privately attempting to accept his stutter.
Frequently, Alexander says, parents approach him after the show and remark, "It's so amazing my child didn't stutter once tonight," In fact, he adds, the stutter "was totally there... but what they no longer see is a child struggling."
Like Family
During one rehearsal, Ned Bealy, 18, and Michelle Polinsky, the 16-year-old composer, rehearsed "Thoughts on the Table," what Polinsky calls simply a song about "war and family" for the production of If You Go. The two stood in front of a sooty brick wall at the Cherry Lane, on a set of five risers individually colored yellow, red, green, purple, and lime.
Having mastered her lines, Polinsky sang loudly, clearly, and with confidence. When she speaks, she has a severe stutter; when she sings, it is practically inaudible.
She and Bealy ran through the chorus and one verse, after which Everett Bradley, Our Time's musical director, momentarily held up his hands, and said, "Wait." He rearranged the song's dynamics by emphasizing a different part of the musical phrase and modifying the arrangement with the piano player. Turning his attention to the singers, Bradley stressed their strong points, and the song once again strolled forward. The adjustments had nothing to do with stuttering—they were just a common bit chiropractic among director, musician, and performers.
Danielle Diesu, 18, who will leave the program soon, says that Our Time "helped me be like myself." The doe-eyed brunette pauses between some syllables when she speaks but otherwise seems poised and relaxed. Once painfully shy, she says, the people from the troupe are "basically my family."
Tom King, 17, who is also graduating from Our Time, says the program "gives us the freedom to express ourselves without feeling rushed at all."
Some of the graduating Our Time youth will go on to be counselors in this year's Our Time summer camp in August, a weeklong stay-away camp in Iroquois Springs, N.Y., which is designed for youth and their families.
Alexander describes the nuances of stutters while seated on the stage at Cherry Lane. Performing may or may not help, and stutters can fluctuate through a person's lifetime, but what is important to Alexander is "being an effective communicator.... You can be a brilliant communicator and [still] stutter up a storm."