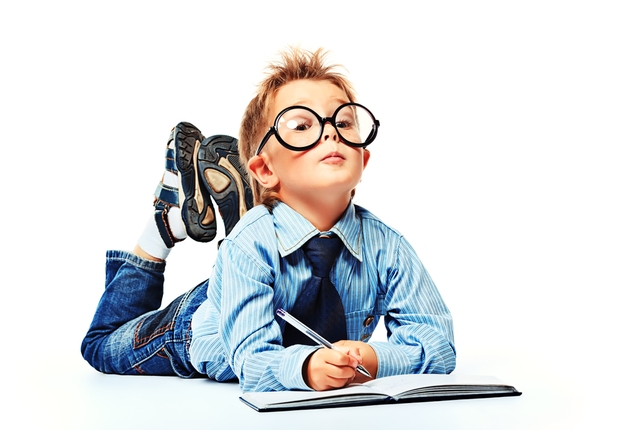 Schooling and tutoring can prove to be a huge challenge for child performers. With all the excitement of being on set, working with directors, and meeting new people, it's easy to get distracted. "My best tip for anyone participating in school outside a traditional classroom, whether it's at home between acting obligations, or on set, is to ensure you incorporate activities outside of your home and schedule time to play and be social," says Rhonda Laurel, whose 11-year-old daughter Serena Laurel has appeared in commercials for Build-A-Bear, Arm & Hammer and Cracker Barrel and even danced with the Chipettes in the feature film "Alvin & The Chipmunks 3: Chip-Wrecked." Laurel says she regularly mixes in breaks with bike rides, visits to local parks, or just cartwheels around the backyard. Another stress-reducing tip for children is to break down their tasks into smaller parts as their curriculum progresses, Laurel suggests.
Try to find out if your child is keeping up with the same courses, subjects, and level of work that they would have at their regular school. Often they can complete their on set "school" prior to shooting a scene, but they must finish the three hour minimum schooling before leaving for the day. "Make a point of making arrangements with the studio teacher to discuss the work expectations and pay attention to the subject matter," says Gwyn Gilliss, CEO/Creator/Executive Director, The Actors Market.
Time constraints are one of the biggest challenges when it comes to balancing education and acting. "Serena can catch up on Live Lessons conducted by her teachers at a time that works best for her schedule, without sacrificing the learning experience of receiving instruction from experienced teachers," says Laurel. The flexibility of Connections Academy, an online school for K-12 students, makes it possible for Serena to go on same day notice casting calls and auditions.
Studio teachers are considered "welfare workers" responsible for the "safety, health and morals" of minors under 16 years of age. They check the child's work permit for validity, time the actual hours of education, and clock the 12-hour "turnaround time" from the end of the day's work schedule to the next day's call time. "They plan the curriculum, homework, and creative aspects of education that could mean taking a trip to a museum, an historical tour, or assigning a science project," says Gilliss. They can also stop or shut down a production if they feel conditions would endanger the minor. Studio teachers are paid by the producer of the project. A studio teacher is provided for any child from kindergarten (first grade in California) up to age 16. For ages 16-18 a studio teacher is provided if the child hasn't graduated from high school, according to Gilliss.
Each state is different but the standard schooling rule applies. School consists of three hours /day and is included in the six hours of work a day that a child is permitted to do. Studio teachers must be in attendance whether it's a school day or not, but they can't teach on holidays, weekends, or summer vacation. Three hours a day is the law in most states, and that includes even a one day shoot, union or non-union. California has the strictest laws, according to Gilliss. "The only exception is the one hour rule," says Gilliss. "If a child needs to do looping, publicity, or a wardrobe fitting, they need not have a studio teacher or any schooling on that day,"
A typical school day must be between the hours of 7 a.m. - 4 p.m. for grades 1-6 and from 7 a.m. - 7 p.m. for grades 7-12. From the first day the studio teacher will typically greet the child and parents and walk them though the studio to the "classroom" trailer. On-set schooling has been compared to working with a private tutor but often on long term shoots there are a few other minors in attendance for a class or a group project. Quality of teachers is about as varied as in any ordinary school, but since there are only 100 members in the studio teacher union, it would seem they have special qualities or experience themselves as performers that would make them more adept at teaching creative children, according to Gilliss. "Ultimately the quality of your child's education rests with you as a parent to monitor, communicate, and become involved in your child's experience," says Gilliss.
Parents are required by law to bring assignments from their child's school and be in attendance along with the studio teacher. They must be in hearing or sight range but not in the actual classroom, which is usually a trailer on the set or nearby.
So how can parents keep their kids motivated on set? "My role as Serena's learning coach is to help facilitate the learning process by creating a focused learning environment, promoting ownership of her own education, and always a lot of love and hugs," says Laurel. Laurel finds that positive reinforcement has always worked the best for motivation. Serena, who attends the Music Biz School in Los Angeles, knows that in order for her to continue participating, she must prioritize her education first. This has paid off as she consistently receives straight A's and is on the honor roll, says Laurel.
"I think the key word is FUN," says Gilliss. "If it's fun, the child will be motivated to do the work, both schooling and performing."