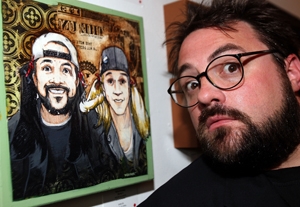 Filmmaker Kevin Smith's is apparently planning to direct another sequel to his films "Clerks" and "Clerks II," but for the New York stage instead of the big screen,
/Film
reported on March 29.
"I do want to do it as a play," Smith said at a book signing in L.A. on March 27. "That would make me excited, to do a f**kin' live show."
Smith hopes to open the play at the end of 2014 to mark the 20th anniversary of "Clerks," his directorial debut about two convenience store workers. The director said he was inspired after seeing "Seminar" on Broadway, starring Alan Rickman. But don't expect open call auditions for the lead roles any time soon, because he added that the play will happen only if original "Clerks" star Jeff Anderson commits to the project.
"If I can't convince him, there's no point in doing it," Smith said. "He is the key to 'Clerks' for me. If he says yeah, then that's what we'll do. We'll do it as a Broadway play, which I think will be so fun for all of us."
When Smith announced in late 2010 that he would retire from directing after completing his upcoming hockey movie, "Hit Somebody," /Film noted that he also told the Boston Phoenix, "There's possibly a 'Clerks 3.' If I have something to say in my late 40s about being in my late 40s, I'll think of ['Clerks'] Dante and Randal. Shy of that, I don't have any more movies I want to make."
In the past, Smith has been criticized for his weakness as a visual director. Moving "Clerks" to the theater could partly solve that problem by removing the camera and focusing on characters and dialogue, which are Smith's strengths.